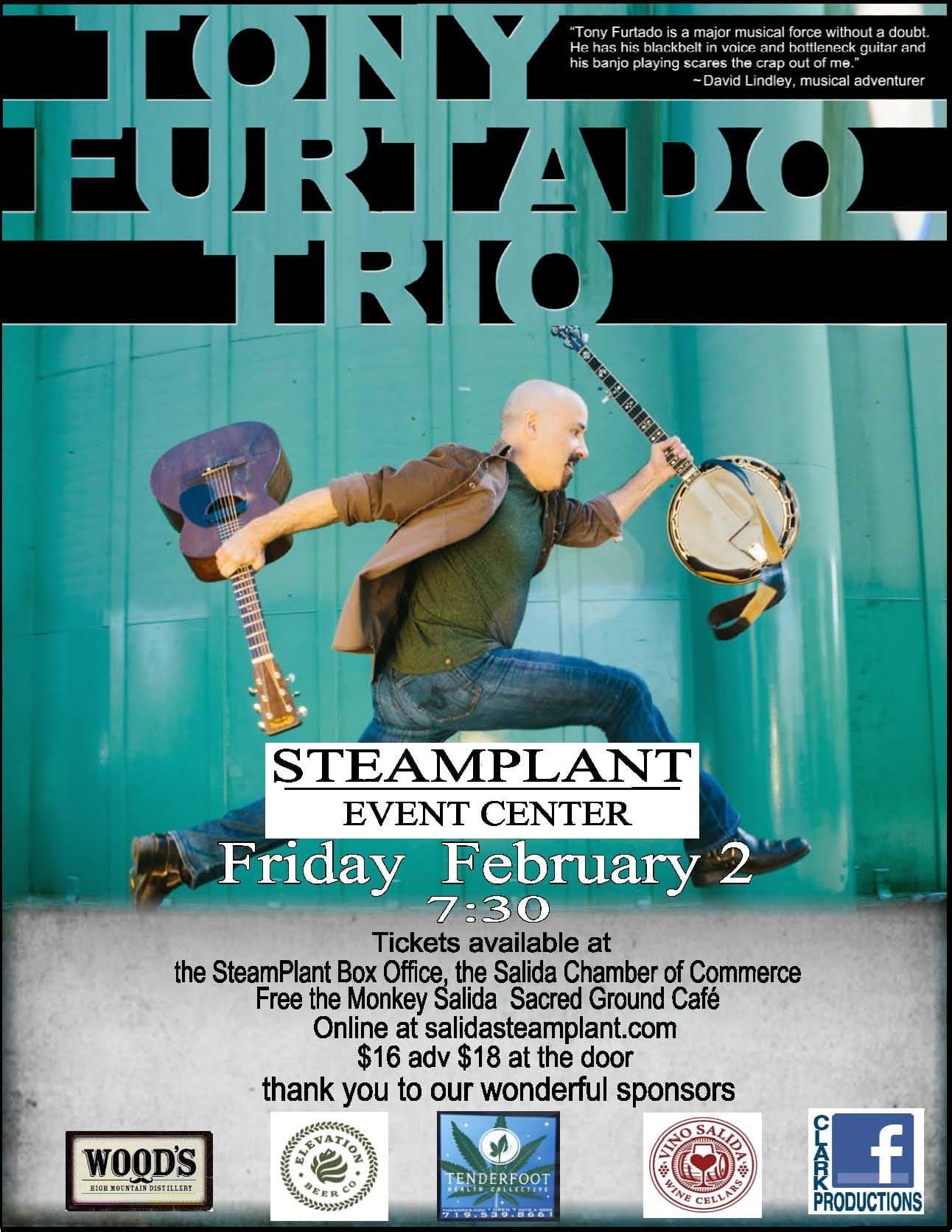 Once again, we are extremely pleased to present Tony Furtado at the SteamPlant Theater.
www.youtube.com/watch?v=W1myUaATzq4
Traveling as a trio, Tony is joined by fiddler extraordinaire Luke Price and my favorite touring bassist, Eric Thorin. (lukedeanprice.wordpress.com/music/ and Eric playing with Tony www.youtube.com/watch?v=m7Jo5ByJ9yo#t=16.) Luke won the National Fiddle Championship again last year so he is the current champ, AGAIN!
Very few musicians of any stripe so personify a musical genre as completely as Tony Furtado embodies Americana roots music. Tony is an evocative and soulful singer, a wide-ranging songwriter and a virtuoso multi-instrumentalist adept on banjo, cello-banjo, slide guitar and baritone ukulele who mixes and matches sounds and styles with the flair of a master.
A native of California who now makes his home in Portland, Oregon, Furtado took up the banjo at age 12, inspired by the Beverly Hillbillies. He won the National Bluegrass Banjo Championship twice, cut his teeth with Laurie Lewis & Grant Street, and signed a solo deal in 1990 with Rounder Records, resulting in six critically acclaimed albums for the label, collaborating with such master musicians as Alison Krauss, Jerry Douglas, Tim O'Brien, Kelly Joe Phelps, and Tony Trischka. Beginning in the late 1990s—influenced by musical heroes Ry Cooder, David Lindley and Taj Mahal—Tony added slide guitar, singing, and songwriting to his musical toolbox and began leading his own band. He especially values the opportunities he has had to tour with A-list artists Gregg Allman, David Lindley, Derek Trucks, Sonny Landreth, and the like. He has performed at such prestigious music festivals as Telluride Bluegrass, Thirsty Ear, High Sierra, Jazz Aspen, Kerrville, Strawberry, Winnipeg, Sisters and many  others. His latest acclaimed release is Cider House Sessions
Relix hit the nail on the head when writing of Tony: "True talent doesn't need categories." www.tonyfurtado.com
Tickets available at the SteamPlant Box Office, the Salida Chamber of Commerce, Free the Monkey Salida, Sacred Ground Café and Online at salidasteamplant.com
$16 adv $18 at the door.
Thank you, our community for extending your hospitality and support, along with our fine friends at Wood Distillery, Vino Salida, Elevation Brewery and Tenderfoot Health Collective.
Presented by Clark Productions.