The Salida Chamber of Commerce is pleased to announce Mountain Phoenix Coffee as our December Business of the Month!
Mountain Phoenix Coffee is a dynamic coffee shop which features coffee beans roasted locally in Salida, Colorado at an elevation of 7,083 feet. This high-altitude roasting process ensures an artfully crafted batch which preserves the coffee's essential oils and freshness. Mountain Phoenix Coffee prides itself on sourcing the highest quality beans from around the world and purchasing 100% Organic and Fair-trade Coffee whenever possible. Their goal is to provide great tasting coffee, which is sustainably grown, without pesticides, and for their farmers to earn a fair wage.
Whether serving up specialty craft drinks, such as the Mexican Mocha, or providing a warm breakfast burrito from their grab-and-go case, Mountain Phoenix is dedicated to keeping their customers happy and fueled. Their menu features several 'made from scratch' options, and Mountain Phoenix also supports local artists by featuring their artwork in the café.
As a company, it is vitally important to Mountain Phoenix to donate to and support many non-profits throughout the Chaffee County Community. Some of these non-profits include Ark-Valley Humane Society, Boys and Girls Club, GARNA and Reasons to be Cheerful. Mountain Phoenix has also donated to multiple events throughout the year including the Senior Expo, Kickoff to Winter, and to a firefighter's event which was held this past summer. Mountain Phoenix would like to thank their loyal customers for supporting them over the last two decades.
To taste the spirit and passion roasted into every batch of beans, stop by Mountain Phoenix's coffee shop at 112 West Rainbow Blvd, Unit C, or check out their website at mountainphoenixcoffee.com.
If you would like to see the complete history for Business of the Month, please call the Salida Chamber of Commerce at (719) 539-2068.
Salida Chamber Ribbon Cuttings RECAP: November 2023
Get to know the new businesses we're honored to welcome as chamber members this month. Don't hesitate to reach out and say hello. After all, connection, community and collaboration are what membership in the Salida Chamber of Commerce is all about!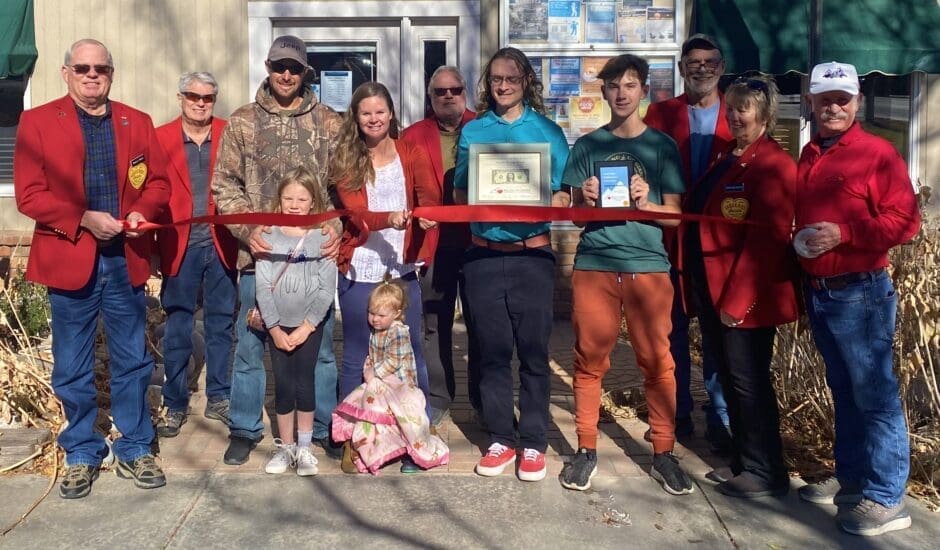 Heart of the Rockies Chamber of Commerce recently welcomed Anshor Driving School to its membership with a ribbon-cutting ceremony.
Since 1994, Anshor Driving School has been providing professional driver education services in Colorado. They serve the communities of Salida, Alamosa, Greeley, and Rocky Ford. Anshor Driving School is a locally owned an operated company which provides driving lessons at reasonable rates and has the option of online courses.
Students can start taking drivers education at 14 years and 6 months old. This is the minimum Colorado State Law. However, Anshor Driving School recommends that it is best if the student is closet to 15 years old. Anshor Driving School uses state-approved late model cars which feature dual brakes to ensure safety. Private students as well as seniors are welcome to take lessons. Many insurance companies will offer a Driver Education Discount for those who take classes from Anshor Driving School.
To learn more about taking driving classes, visit anshordriving.com, or call them at 719-398-1405.
Quarterly Nonprofit Recognition: Arkansas Valley Humane Society

The Salida Chamber is excited to recognize the Arkansas Valley Humane Society as our nonprofit of the quarter!
The Ark-Valley Humane Society's mission is to ensure the welfare of companion animals through compassion and care. Last year, their team of nine staff members, nine board members, and 56 volunteers helped 1,833 animals through sheltering, spay/neuter, microchipping, safety net, and adoption programs.
Since opening in 1991, the Ark-Valley Humane Society has served over tens of thousands of animals, as well as educating the public on responsible pet ownership. They have maintained a compassionate animal shelter for all homeless, lost, and unwanted pets without a regard for time or space. The Ark-Valley Humane Society's policies are working to change the face of animal sheltering to be both more animal-friendly and people-friendly.
The Ark-Valley Humane Society depends on generous donations from individuals, businesses and foundations along with the support of the community through a Mill Levy.
For the month of August, all donations will be matched. Help them meet their goal of raising $34,000 this month!
Visit the Ark-Valley Humane Society at 701 Gregg Drive, call them at (719) 359-2737, or check out their website at www.ark-valley.org.
Member Monthly Highlights
All business information and articles are located under the Chamber News button. All registrations, tickets, and save-the-date information for upcoming events are located under the Featured Events button. All monthly ads, discounts, specials, and coupons are under the Discounts button. See this month's full calendar of events here.