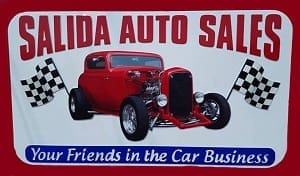 Phone: 719-539-9215 | 7420 W Hwy 50 Salida, CO
Email: samjohnsonsas@yahoo.com
Website: www.salidaautosales.com

Dealership, service, domestic and foreign car and truck sales, accessories and installation, detailing, fifth-wheel hitches, receiver hitches, running boards, tubular cab steps, mud flaps, autofinding. PRE-OWNED vehicles: Chevrolet, Ford, Dodge, Subaru, Toyota, Volkswagon, Chrysler, Jeep, GMC, Hyundai, Mercury, Nissan and many others. We stock many 4X4s, gas and diesel. If we don't have it in stock, we'll find it for you.