Welcome to Salida, Colorado!
4th Annual Salida WineFest, September 5, 1-6 p.m.
Join the Salida Chamber of Commerce and Vino Salida in historic downtown Salida at the Riverside Park for the 4th Annual Salida Winefest.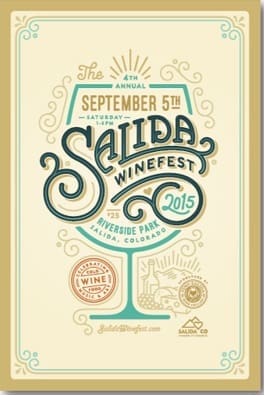 Advance Tickets are available now at:
We will be featuring world class wine tastings from wineries across the State of Colorado in a great environment under the canopy of tree tops along the Arkansas River.
We will also feature hand-picked cuisine vendors to pair with the wines and great local art/merchandise.
All accompanied by some of our best local musicians!
CHEERS! Here's to you! Bottom's up! The clinking of glasses can help cement old friendships and celebrate new ones!
Need a Ride?? Call Rocky Mountain Taxi at 719-966-2005
Salida Schools

In the meantime, get an adrenaline rush at Captain Ziplines' aerial adventure park or try whitewater rafting and stand-up paddleboarding. Looking for something a little more serene? How about fly fishing, hiking or rockhounding?
Summertime welcomes America's oldest whitewater festival as well as many music, art, beer and wine festivals, and endless opportunities for camping, hiking, biking, jeeping and horseback riding.
If shopping is more your style, it's a year-round sport in Salida. Our downtown Creative District is home to numerous artist-owned art galleries with everything from fine art to toys. Specialty boutiques, restaurants, coffee shops, spas, microbreweries, a distillery and other shops from downtown to Highway 50, where you'll find more restaurants, lodging and wineries. Salida is also a great place to relax, with spas and natural hot springs such as the Salida Hot Springs Aquatic Center and nearby Mount Princeton Hot Springs Resort.
Visit our calendar pages to discover the many happenings and festivals happening this month and throughout the year.
Whatever your interest, or whatever the season, you'll have fun in Salida!
Friday Enrichment Programs For Students
To be successful, children need support not just from home and school, but also from the community. We know a strong partnership with the community will make a great difference in your child's outcome. This year Salida Recreation, the city of Salida and private providers are building a calendar of events and activities, www.salidarec.com/fridays, or download the schedule.
Medallion Sponsorship Program: Salida Chamber Gold, Silver and Bronze Sponsors