Welcome to Salida, Colorado!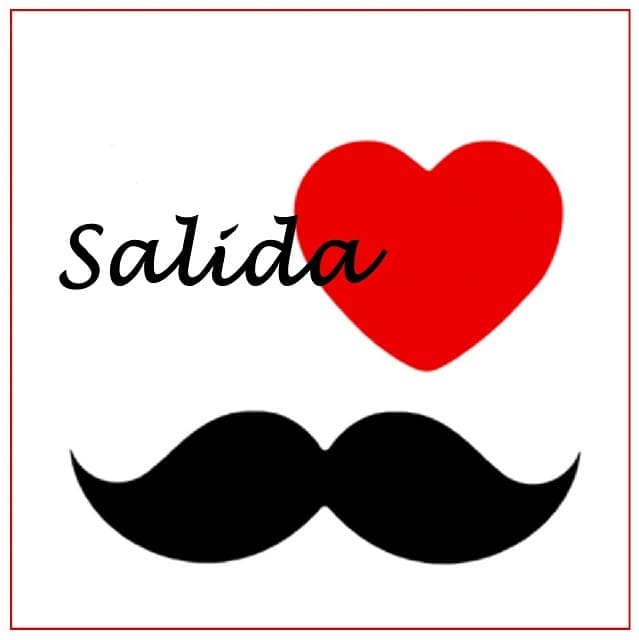 2015 Gentlemen of the Road – Salida Stopover, Aug 21-22
The 2015 GENTLEMEN OF THE ROAD STOPOVER in Salida, Colorado will be Aug. 21-22, featuring MUMFORD AND SONS, THE FLAMING LIPS,  Blake Mills, Dawes, James Vincent McMorrow, Jeff The Brotherhood, Jenny Lewis, the Vaccines and Tune-Yards, all at the Vandaveer Ranch southeast of Salida on Highway 50. 
Tickets are on sale now at www.gentlemenoftheroad.com/tickets. 
Entertainers and volunteers may submit information to beatrice.price@cityofSalida.com. 
Lodging: Our Members who have notified us they still have lodging available during the concert:
Great Western, 800-777-7947 (Under construction but should have rooms available in May)
Chalk Creek Campground, 719-395-8301
Bighorn Park, 719-942-4266
River Orchard Place, 214-533-6956
Pinon Courts Cabins, 719-395-2433
Monarch Spur RV Park has 2 Cabins, 719-530-0341
Downtown Salida, 2bd 1ba, 719-207-2780
Silver Spruce, 3bd 2 ba, 719-539-7122
Wilderness Expeditions, Lodge & Campground, tent camping and rooms, 719-539-4888
1bd, 1ba & pull-out sofa – sleeps 4, close to Arkansas River and Downtown Salida, Call Dvora at 719-539-7595
Queen Bed, Bath & Breakfast in Salida, call Frank at 970-260-1170
Boy Scouts of America Rocky Mountain Council: $100/night to rent a Canvas Platform Tent which sleeps 2. (Bedding not included). Rental includes parking, shower and bathroom facilities. The camp will be staffed throughout the event and is a family friendly environment. No Alcohol, drugs, smoking or pets will be allowed on property as it is a Boy Scout Facility. Proceeds will support Scouting Programs in Southern Colorado. Hot, Home-cooked breakfast will also be available for purchase both in pre-sale reservations and at the camp itself, will cost $10/person. For more information visit: http://www.rmcbsa.org/SalidaStopover or call Kevin at: (719) 221.9690.
San Isabel Bed and Breakfast has 2 rooms available. Call  (719) 539-5432.
Also, for private homes please check out www.airbnb.com and www.vrbo.com
4th Annual Salida WineFest, September 5, 1-6 p.m.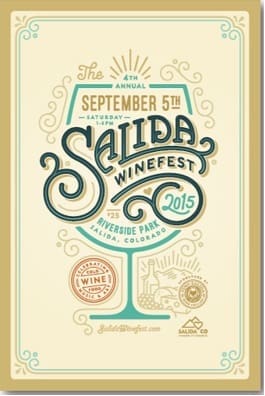 Join the Salida Chamber of Commerce and Vino Salida in historic downtown Salida at the Riverside Park for the 4th Annual Salida Winefest.
Advance Tickets are available now at:
We will be featuring world class wine tastings from wineries across the State of Colorado in a great environment under the canopy of tree tops along the Arkansas River.
We will also feature hand-picked cuisine vendors to pair with the wines and great local art/merchandise.
All accompanied by some of our best local musicians!
CHEERS! Here's to you! Bottom's up! The clinking of glasses can help cement old friendships and celebrate new ones!
In the meantime, get an adrenaline rush at Captain Ziplines' aerial adventure park or try whitewater rafting and stand-up paddleboarding. Looking for something a little more serene? How about fly fishing, hiking or rockhounding?
Summertime welcomes America's oldest whitewater festival as well as many music, art, beer and wine festivals, and endless opportunities for camping, hiking, biking, jeeping and horseback riding.
If shopping is more your style, it's a year-round sport in Salida. Our downtown Creative District is home to numerous artist-owned art galleries with everything from fine art to toys. Specialty boutiques, restaurants, coffee shops, spas, microbreweries, a distillery and other shops from downtown to Highway 50, where you'll find more restaurants, lodging and wineries. Salida is also a great place to relax, with spas and natural hot springs such as the Salida Hot Springs Aquatic Center and nearby Mount Princeton Hot Springs Resort.
Visit our calendar pages to discover the many happenings and festivals happening this month and throughout the year.
Whatever your interest, or whatever the season, you'll have fun in Salida!
Friday Enrichment Programs For Students
To be successful, children need support not just from home and school, but also from the community. We know a strong partnership with the community will make a great difference in your child's outcome. This year Salida Recreation, the city of Salida and private providers are building a calendar of events and activities, www.salidarec.com/fridays, or download the schedule.
Medallion Sponsorship Program: Salida Chamber Gold, Silver and Bronze Sponsors