Welcome to Salida!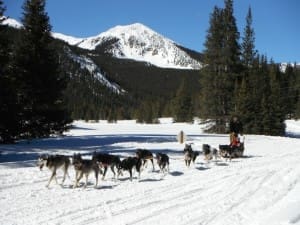 Have fun in the snow! Check out the slopes at Monarch Mountain Ski Resort, take a daytime or moonlight excursion with Monarch Dog Sled Rides or ride a snowmobile amid Colorado's incredible scenery.  There's powder on the mountains, but in Salida the sun is shining and the streets are clear!
If shopping is more your style, it's a year-round sport in Salida. Our downtown Creative District is home to numerous artist-owned art galleries with everything on your Christmas list, from fine art to toys. Specialty boutiques, restaurants, coffee shops, spas, microbreweries, a distillery and other shops around town glow with twinkling lights and holiday specials.
Salida is also a great place to relax, with spas and natural hot springs such as the Salida Hot Springs Aquatic Center and nearby Mount Princeton Hot Springs Resort.
 Visit our calendar pages to discover the many activities happening during this holiday season. On New Year's Eve, watch the beautiful glow of skiers in the Monarch Torchlight Parade (or participate!) and kick off 2015 with a walk or run in the New Year's Day 5k, which begins at 10 a.m. in Riverside Park.
Whatever your interest, or whatever the season, you'll have fun in Salida!
 Friday Enrichment Programs For Students
To be successful, children need support not just from home and school, but also from the community. We know a strong partnership with the community will make a great difference in your child's outcome. This year Salida Recreation, the city of Salida and private providers are building a calendar of events and activities, www.salidarec.com/fridays. 
Salida In The News
Please Support the Salida Community Blood Drive
Salida Community Blood Drive 2015: Tuesday, January 13; Tuesday, March 10; Tuesday, May 12; Tuesday, July 14 (at SteamPlant Event Center);Tuesday, September 8; Tuesday, November 10; from 11 a.m. until 4:30 p.m. Held at the Salida Masonic Lodge at 140 W. 3rd Street (except at the SteamPlant on July 14) To schedule your appointment, call the Bonfils Appointment Center at 800-365-0006, Ext. 2.
Featured Video – Spirit Mountain Antler & Log Design
Video by Wiley Middleton of Gold Strike Video.
Medallion Sponsorship Program: Salida Chamber Gold, Silver and Bronze Sponsors