---
Walden Chamber Music Society Easter Sunday Concert – April 16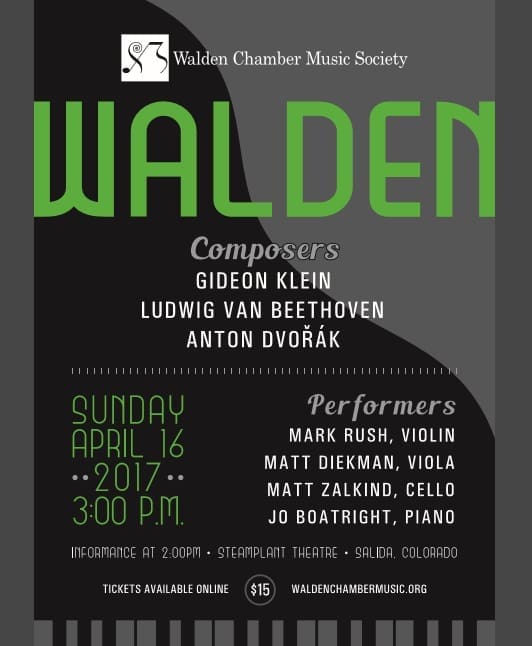 Walden Chamber Music Society
Easter Sunday Concert
Sunday April 16, 3:00pm
On Sunday, April 16, Walden Chamber Music Society will present its 3rd concert of the Season, welcoming back cellist, Matt Zalkind,  violinist, Mark Rush, violist Matt Diekman,  and pianist Jo Boatright.
The concert opens with a String Trio for violin, viola and 'cello (Terezin 1944) by Gideon Klein,   followed by Ludwig van Beethoven's Sonata for 'Cello and Piano in A Major, Op 69.
For the second half of our program we present Piano Quartet in E flat Major, Op 87, for violin, viola, 'cello and piano by Anton Dvorak.
Prior to the 3:00pm concert, Ms. Boatright will give a thirty minute informance beginning at 2:00pm, during which she will explain and demonstrate the music to be performed.
Tickets are $15/adult and free for students.  The tickets are available on our website, at the SteamPlant Theater box office, the Salida and Buena Vista Chambers of Commerce, and at the door prior to the concert. Free student tickets are also available at the door.
For more information contact Dale Kettering at (719) 395-6408 or visit our website at waldenchambermusic.org