---
Tomichi Lodge
11167 County Road 888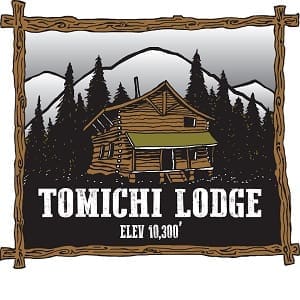 White Pine, CO
Reservation: 719-626-3088
Lodge: 970-641-0241
The Tomichi Lodge, originally constructed as a spacious backcountry hunting lodge in 1979, continues to be a base camp for outdoor enthusiasts to recreate and rejuvenate in the heart of the Colorado Rocky Mountains year round. This is not a resort, but rather a high altitude authentic rustic mountain experience located at 10,300 feet of elevation.  At a ripe old age of 37 years and counting, the Tomichi Lodge continues to provide guests a much needed escape from the hustle and bustle of daily life, allowing one to unplug from technology and reconnect with both loved ones and nature.
Over 2,300 square feet of living space includes four bedrooms plus sleeping loft, great room, dining area, equipped kitchen, and two bathrooms to round out this log dwelling. Heated by two wood stoves, it offers a communal style cabin atmosphere for playing board games and drinking hot cocoa in front of the fire.  Wood fired hot tubs are on site and enjoyed seasonally.
The Tomichi Lodge vision is to provide an opportunity to be in the wild of the high country while enjoying some key comforts. These comforts include indoor plumbing with hot & cold water, showers, a washing machine and electricity. This is an invitation to unplug as there is no cell coverage, no TV and no internet.  Reconnect with loved ones and new friends.  Enjoy a warm fire, a comfortable bed and explore the untamed wilderness.  Absorb all the mountains have to offer right outside your door.
In the summer, guests enjoy a refreshing escape from the summer heat experienced by most of the surrounding areas/states.  When it comes to outdoor recreation the lodge offers immediate access to wonderful hiking & trail running, the Canyon Creek Mountain Bike Trail, numerous opportunities to summit 12,000'+ peaks and many miles of off-roading/atv-ing as well as a direct connection to Tomichi Pass.  Jeep rentals and horseback tours can be easily arranged.  The Tomichi Creek runs through the property and offers guests a chance to 'cool down'.
The fall is a magical time of year at Tomichi due to the changing of the Aspen leaves from their summer bright green to a golden yellow.  All of the same summer activities are available but with a much more colorful backdrop.  The Tomichi Lodge is located within Big Game Unit 551 and is home to a healthy population of both mule deer and elk.  We see a lot of repeat hunting guests due to the lodge's location/elevation (located at 10,300′) providing amazing access to the high country hunting grounds.  Hunting season typically runs from late August through mid-November.
The remoteness and solitude is magnified in the winter months.  With very few winter recreationalists in Tomichi and no full-time winter residents, guests experience peace and quiet, and a lot of snow.  This makes for truly amazing backcountry skiing, snowboarding and snowmobiling.  Snowshoeing and cross-country skiing are available for those looking to enjoy the outdoors without the adrenaline rush.  PLEASE NOTE:  In the winter the lodge is a 5.5 mile hike from the parking lot trailhead with an elevation gain of approximately 1,000 feet.  The hike is not technical and follows a road all the way to the front door of the lodge.
The spring offers great late season skiing, the budding of new growth for the Aspens and lots of snow melt/runoff.  Guests typically can start driving up to the lodge around the 1st of June.  Great off-season rates are available mid-April through the end of May.  Due to wintery conditions, guests typically can drive up to the lodge June 1 – October 15.  A vehicle with good clearance is mandatory and 4WD is highly recommended.
Neighboring the lodge are the adorably rustic Colorado Cabin and Buckhorn Cabin. Both cabins are available for bookings as well, independently and/or in conjunction with the Tomichi Lodge. The entire property is available for retreats, family reunions and special events.