---
Tomichi Lodge – Help us Save Tomichi Lodge!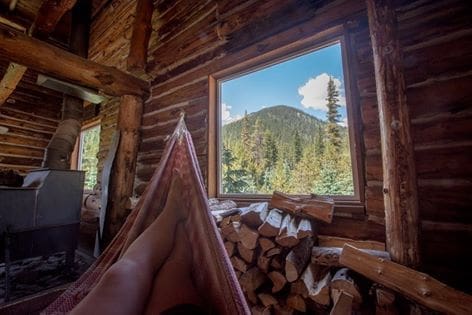 Dear Salida,
Help Us Save Tomichi Lodge!
The Tomichi Lodge has been a special part of Salida and Chaffee County's local community for almost 40 years.  Hunters, mountain bikers and hikers, backcountry skiers and snowmobilers alike have all experienced and enjoyed the remote beauty Tomichi has to offer.  We're always meeting people in town that celebrated a milestone birthday at the lodge, or a snowy Thanksgiving with family and friends, or someone who's great grandparents lived and mined in the old Tomichi townsite in the late 1880's… the stories are always entertaining and memorable.  It's our goal to ensure the lodge is available for the community's continued memory-making enjoyment.
For those of you who haven't heard the recent grumblings through the community the Tomichi Lodge was shut down by Gunnison County on July 14, 2017 until improvements are made bringing the 1979-built structure up to 2009 Universal Building Code(UBC).  The improvements required by Gunnison County include the installation of all new electrical, structural engineering and potential structural reinforcement to roof's snow-load capacity and exterior wall integrity, installation of new propane lines, hot water heater and venting, relocation of wood-burning stoves and rerouting of chimney stacks including building new chase runs.  All work must be permitted and performed by licensed contractors.
Why did Tomichi Lodge get shut down?
In September 2016 there was a small fire in the lodge due to the improper disposal of wood stove ashes by some guest from Denver.  The Gunnison County Volunteer Fire Department thankfully got to the property and put out the fire.  In doing so they also captured dozens of photos of the lodge interior for their records.  The Gunnison County Community Development Department received these photos containing 'life safety issues' in September 2016 .  The GCCDD sat on the photos on file for 9 months – Sept 2016-June 2017 – before notifying the owners that there were any safety issues with the lodge.  During this 9-month timeframe the lodge's operations experienced two regular offseason periods where little-to-no guests stay at the lodge, the late fall/early winter of 2016 and the spring of 2017.  Instead of the owners receiving prior warning or notice of the 'life safety issues' effectively allowing the improvements to be scheduled during the off-seasons, an immediate 'cease notice' was served during peak summer tourism season, turning away guests with fully-paid, confirmed reservations.  This summer's guests have weddings, bachelor parties, family reunions and mountain bike trips planned.  Gunnison County did not offer a 'remedy period' to the owners which would allow them to continue daily business operations while the county-required improvements are made.  An immediate 'cease order' was served instead.
The immediate shutdown negatively impacts the break-even, labor-of-love business in three ways…
1- existing summer reservations must be cancelled and refunded,
2- no new summer reservations may be taken,
3- large, unbudgeted cash outflow for county-required improvements.
We are asking for your help in the form of donations, volunteers, or simply spreading the word to save Tomichi Lodge from being forced out of business.  The opportunity to bring on partners is also something we're open to discussing.  Feel free to read the full story and donate here: www.YouCaring.com/SaveTomichiLodge.  If you would like to contact us please email us at info@tomichilodge.com.
Salida 'Thank You' for your continued support of the one and only Tomichi Lodge.  As we continue to fight and claw our way to the other side of this very unexpected shutdown the end product will be an even better version of the lodge for all to enjoy, offering the sounds of the Tomichi Creek, abundant Colorado wildflowers and wildlife and the freshest mountain air found anywhere.
Warmest Regards and Big Thanks,
James & Kristina Bengala
Owners/Operators
TOMICHI LODGE: Located at 10,300′ in Colorado's Southern Sawatch Range the 10.5-acre property provides the perfect location to get away and enjoy the high country without the modern day buzz.  The main lodge is a log cabin full of character and charm and offers 2,000+ SF of living space, including 4 bedrooms, 2 bathrooms, a large great room, full kitchen, indoor plumbing, wood-burning stoves with stocked firewood and cozy beds.  The lodge is completely off-grid and currently generates its own electricity via an on-site hydro-electric system.  Two other smaller cabins on the property are still available for rent this summer – the Buckhorn Cabin and the Colorado Cabin.