---
Happy Tails!, LLC
8100 W. Hwy 50, Unit C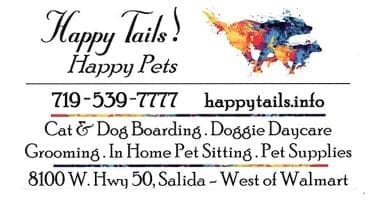 Salida, CO 81201
Phone: 719.539.7777
www.tlcpetsupplyservices.com
Karen@tlcpetsupplyservices.com
Facebook: salidacotlcpetsupplies
We Pamper Your Pets As If They Were Ours! We offer a full service pet spa including Boarding, Doggie Daycare, Pet Washes, Grooming, Pet Sitting at your Home and Dog and Cat Supplies. We are the only facility that supervises your boarding pets 24/7!
We help pets feel happy, safe and secure in their fun surroundings in our boarding and daycare center. We pamper your pets while you are away from home whether it is for a couple of hours or a month. We take the stress out of leaving your furry pets with a personal touch.
We offer a HUGE selection of pet supplies and products. We have an extension product line of both dog and cat nutritional foods and treats. We also have a lot of fun variety of toys, beds, cat furniture, collars and much more!
Now offering Storage units, 10X10, 10X15, 10X20, 10X30, & 20X30 available. Brand new units! Look for the blue and red storage units at 8300 W HWY 50. 719-221-5852.