---
Sutty's Downtown Records & Arts
110 West 1st Street
Salida, CO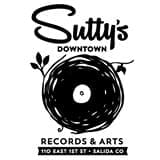 Phone: 719-207-4066
Email: lindsaysuttonart@gmail.com
Website: www.suttysdowntown.com
Hours: Monday- Saturday 11:00-5:30pm & Sunday noon- 4pm
Sutty's Downtown Records & Arts is a boutique record store and contemporary art gallery. The goal of Sutty's is to bring something a bit more current to the historical mountain town charm of Salida, Colorado. Owners Lindsay & Aaron Stephens are both avid record and art collectors who saw a need for a "big city vibe" in their small town.
We only carry new press vinyl; specializing in new and classic independent rock n' roll and hip hop. Sutty's features an array of modern, colorful, & unusual art with an edge by 7 different Colorado artists. Beyond t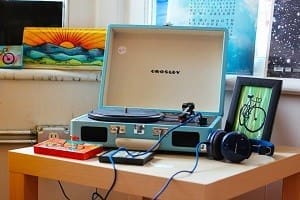 he art and vinyl highlighted at Sutty's, we carry both classic and suitcase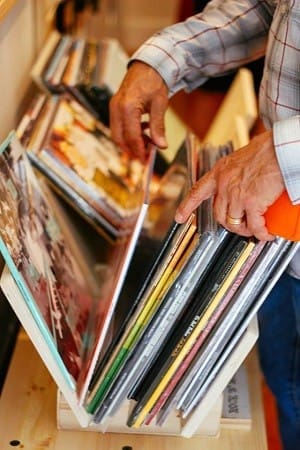 turntables, instant cameras, and a variety of cool Sutty's merchandise.
Sutty's will find and order that obscure record you have looked for; just come in and chat with Lindsay.
Not only does Sutty's Downtown Records & Arts run as a record store and art gallery it is also the working studio of artist/owner Lindsay Sutton-Stephens. Lindsay has worked, lived, loved, and painted in Salida, Colorado for the last decade. Her artwork is featured in most downtown Salida restaurants. Lindsay has spent the last 15 years traveling with her unique brand of art but after the birth of her first child it was time to open up an unexpected storefront in Salida. Fun fact: Sutty's Downtown Records & Arts is named after Lindsay's son Sutton a.k.a. Sutty; a toddler who is rarely allowed in the store.
The Sutty's Juke Joint Alley is the home to live music, art lessons, and craft fairs. Like us on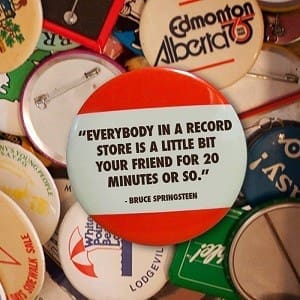 Facebook or sign-up for our email list to stay in the know of our sales and events. suttysdowntown@gmail.com & https://www.facebook.com/suttysdowntown/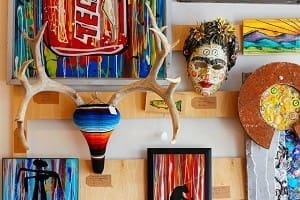 If you are looking for something unusual, colorful, contemporary, and just a bit cooler than the rest Sutty's Downtown Records & Arts is for you.