---
Salida Cutlery and Smoke Shop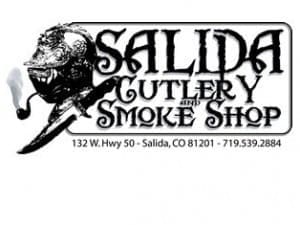 132 W. Hwy 50
Salida, CO 81201
Phone: 719-539-2884
When visiting Salida, CO be sure to stop in to browse, you may find the perfect Colorado souvenir in one of the many displays filled with name brand Knives, Kitchen Cutlery, Custom Knives and much more!
Salida Cutlery and Smoke Shop stocks many brands of Cigars, Cigarettes, Bulk Tobacco, Rolling papers and Pipes.
Vape Pens, Mods, E Juice, Batteries, Wire, Cotton and Tanks are found in the Vape Shop section of the store.
Hookahs, Shisha and Charcoal are in stock.
We have a convenient DRIVE UP WINDOW!