---
Salida Rec – April
APRIL IS SALIDA SCHOOL DISTRICT STAFF APPRECIATION MONTH!  Please bring in a school badge or other proof of employment and swim for FREE in the public pools all month long.  We appreciate you providing a safe, nurturing environment and for teaching and caring for our children day in and day out.
LONGFELLOW AND SALIDA MONTESSORI LESSONS AT SHSAC DURING THE MONTH OF APRIL! During the month of April each year the Salida Hot Spring pool hosts swimming lessons for the Longfellow Elementary and Salida Montessori physical education classes.  Longfellow Elementary will be in the lap and leisure pools 8:30-11:45am and 1-2:50pm, Monday through Thursday, April 3-May 4, 2017.  Salida Montessori will be in the lap and leisure pools 10-11:45am and 1-1:45pm, Fridays, April 7-April 28, 2017.  The Aquatic Center is shared by many user groups. Lap lane availability may vary.  In order to make your lap swimming as enjoyable as possible, we offer a handout "Best Lap Swim Times" each month to help you choose the best time to work out. In addition, some of our water fitness classes will need to be moved to a different time slot for the month.  Aquacize will move from 8am to noon on Mondays, Wednesdays and Fridays.  Arthritis will move from 9am to 8am on Monday, Wednesdays and Fridays.  Water Volleyball will move from 8am to 7am Tuesdays and Thursdays.
FITNESS ON SKATES!  Salida Recreation and Ark Valley High Rollers bring you a new way to get fit—on skates! Sundays, April 2-May 21, 3-4pm at the Chaffee County Fairgrounds, $5 drop-in fee.. Doors open at 2:40pm, be ready to roll by 3pm.  All ages and abilities welcome; under 14 must be accompanied by an adult.  Skates and protective gear required with a limited number available to use.
Camp Friday: Fitness Games, Nature WALKS, S.T.E.M. & Arts Exploration!  Salida Recreation is offering one more session of CAMP Friday for this school year beginning, Friday, April 7 and running through Friday, April 28.  We are partnering with GARNA, Guidestone, Joe Lobeck, and CSU Extension 4H for this four-week session.  Each week different activities are grouped around a theme to encourage artistic, natural, scientific and physical exploration.  Ages 5-8, Fridays, April 7-28, 9am-2pm, cost $5/person/day.  CAMP Fridays are sponsored by High Country Bank and Monarch Community Outreach.  Preregistration is required.  No drop-ins accepted.  All registrations and liability waivers must be completed at the Aquatics Center.  Payment must be made at time of registration.  Locations/themes subject to change. Please view full schedule at www.salidarec.com/fridays.  For specific program questions, contact Lanette @539-5703 or salida.recreation@cityofsalida.com.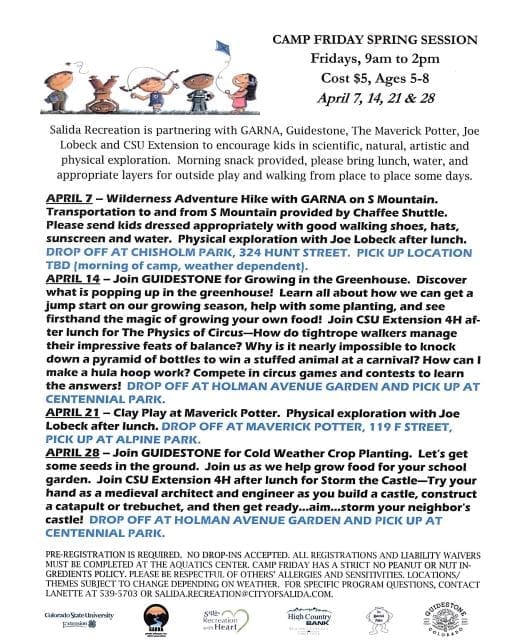 UNDERWATER EGG HUNT!  Celebrate the coming of spring and Easter with this unique egg hunt Thursday, April 13, 5 to 6:30pm. Kids retrieve the colorful eggs from the pool and exchange them for goodies!  We'll have age divisions to ensure everyone has fun and stays safe, plus goodies for all! Youngest kids will begin at 5:15, with older kids to follow. Fee of $5 per child includes treats, prizes, and swimming until 8pm.
JIVE AND DIVE!  Friday, April 14 from 7-9pm, middle schoolers ONLY pool party.  Drop-in, $5.