---
Salida Museum Open House – May 13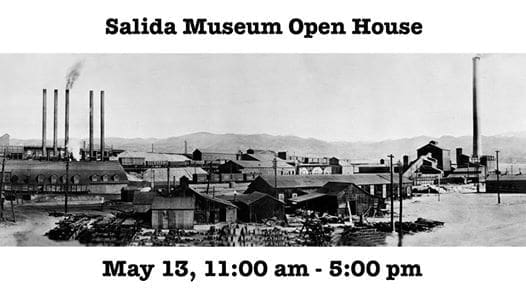 Salida Museum, 406 ½ US HWY 50, Salida CO 81201
MUSEUM OPEN HOUSE—FREE ADMISSION
Come to the second annual Salida Museum Open House, featuring new exhibits under all new lighting, a special presentation on railroad history and a salute to the smelter smokestack, Chaffee County's tallest landmark constructed 100 years ago.  Admission will be FREE all day.   The museum is located Centennial Park next to the Chamber of Commerce visitor center and Hot Springs Pool.
At 1:00 p.m. local railroad historian John McCarthy will present a program about the construction of the Ohio and Colorado Smelter Smokestack, which was completed November 14, 1917.  The Smelter operated for 20 years before becoming a creosote plant and then a Superfund cleanup site in the 1990s.  The smokestack was placed on the National Register of Historic Places in 1976 and is currently part of the Collegiate Peaks Scenic Byway.
Also, local author Dick Dixon will be available to sign copies of his 1987 book, "Smokestack: The Story of the Salida Smelter."
The Open House kicks off a summer of centennial celebrations of the smokestack and the start of regular summer hours at the museum—Daily 11 a.m. until 5 p.m., subject to availability of volunteers.
For more information, go to salidamuseum.org and the museum's Facebook page, or call the museum at 719-539-7483.