Salida Hospital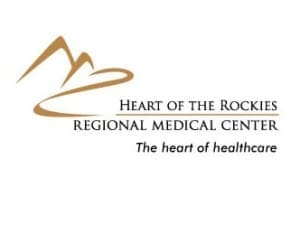 Heart of the Rockies Regional Medical Center (HRRMC) 1000 Rush Drive ~ Salida, CO 81201 (719) 530-2200 www.hrrmc.com The Highest Level of Treatment HRRMC is a full-service hospital offering medical and acute care, with extensive diagnostic capabilities, surgical treatment and rehabilitation services. 24-Hour Care The Emergency Department is certified as a Level IV Trauma Center and is staffed by physicians and nurses 24 hours a day, unlike most rural hospitals where doctors are only on call. In addition, the ED is supported by Radiology, Laboratory, and Cardiopulmonary services around the clock.
---
Health Care Services
Heart of the Rockies Home Health and Hospice 301 Oak St, Unit E, ~ Salida 81201-3340 PO Box 1168, Salida 81201-1168 p. 719-539-7638 fax 719-530-0166 www.heartoftherockieshhh.com  info@heartoftherockieshhh.com. Heart of the Rockies Home Health and Hospice provides in-home health and hospice services to residents of Chaffee and Fremont Counties. Our experience home health and hospice team includes: nursing social work; physical, occupational and speech therapy; spiritual and grief assistance; aides; and volunteers. Heart of the Rockies Home Health and Hospice is a partnership between Heart of the Rockies Regional Medical Center and Frontier Home Health and Hospice.
Area Agency on Aging 139 E. Third ~ Salida, CO 81201 (719) 539-3341 The Area Agency provides and coordinates services for the elderly in Chaffee County including: home-delivered meals, health screening, Medicare, insurance assistance, and long term care information and more.
Chaffee County EMS (719) 539-1914 Administrator- Lisa Ortega EMT-P , Josh Hadley EMT-I .Staff: 11 full time, 9 part time. Calls: 1,300 a year. Training: EMT Basics, Intermediates, and Paramedics. Physician Advisor: Dr. Bruce Gross, Response Time: 2-8 minutes, Vehicles: 6 ACLS-equipped ambulances. When necessary, we are serviced by the Flight for Life Air Service
Chaffee County Mammography Fund (CCMF) 944 East Rainbow Blvd. ~ Salida CO 81201 PO Office Box 107 (719) 539-5413 CCMF provides low-cost or no-cost diagnostic breast care for the uninsured and underinsured residents of Chaffee County.
Chaffee County Public Health 448 East 1st St. Suite 137. ~ Salida, CO 81201 (719) 539-4510 Services provided include: Chaffee County Public Health is dedicated to promoting health and preventing disease by supporting healthy individuals, families and communities. Our services include but are not limited to: care coordination for children with special needs, prenatal and newborn visitation, education and follow up for communicable diseases and resource and referral information. Our agency is involved in numerous programs and activities which protect and promote the health of the county including: Emergency Preparedness planning, adult and child immunizations clinics, public health insurance application assistance, The LiveWell Colorado Coalition, tobacco prevention and Nurse Family Partnership.
Columbine Manor 530 W. 14th Street ~ Salida, CO 81201 (719) 539-6112 Columbine Manor is a full service acre center. They offer 24-hour skilled nursing care along with close medical supervision, including assistance with dressing, bathing, eating and the administration of medication. In addition, Columbine manor assists with rehabilitation, Alzheimer's care, Respite care, activities and dining. Spacious private & semi-private resident rooms are available, and include telephone & cable T.V. hook-ups.
First Street Family Health 910 Rush Drive ~ Salida, Colorado 81201 (719) 539-6637
HRRMC Internal Medicine The Medical Clinics 550 West Hwy. 50 ~ Salida, CO 81201 (719) 530-2000
Salida Family Medicine 320 East First Street ~ Salida, CO 81201 (719) 539-3583
The Medical Clinics 550 West Hwy. 50 ~ Salida, CO 81201 719.530.2000 The Medical Clinics serves as one of three sites for Heart of the Rockies Regional Medical Center's rehabilitation and laboratory services. It also houses a variety of medical specialists as well as HRRMC's Orthopedic Sports Medicine Center of Excellence.
Upper Arkansas Home Health Services 301 Oak Street Unit E ~ Salida, CO 81201 (719) 539-7638 Upper Arkansas Home Health Services' nurses and therapists help patients complete their recovery after discharge from the hospital. They can help with dressing changes, IVs, injections, catheters, and medication. Plus, they can coordinate a patient's rehabilitation at home with physical, occupational or speech therapists.
Solvista Health 111 Vesta Road ~ Salida, CO 81201 (719) 539-6502 Solvista provides individual, group, and family counseling. A psychiatrist visits regularly. Consulting and educational services are available. Day treatment is offered twice a week.
Arkansas Valley Physical Therapy & Pain Center ~Phone: (719) 539-3626 ~ 735 Blake Street Salida, CO ~ leanora99@gmail.com ~ www.arkansasvalleypt.com. Arkansas Valley Physical Therapy & Pain Center provides relief of pain by using specialized forms of electrical stimulation, cold laser light, ultrasound, heat/ice, touch and movement. Clients are taught how to manage and take control of their pain by creating strength, promoting free motion, and improving athletic performance — all to make you feel better! Treatment focuses on healing bodies from total joint replacement rehabilitation, myofacial release, joint mobilization, aquatic physical therapy, sports injuries, post-surgical care for all joints, worker compensation, cold laser for wound care and pain relief, stroke rehabilitation and sprains and strains.
Rebound Physical Therapy ~ Phone: 719-539-6144 ~ 233 F Street Salida, CO ~ salidareboundpt.com. Rehabilitation after orthopedic surgery, stroke and sports injuries. Care for musculoskeletal pain of the back, neck and limbs utilizing manual techniques, Feldenkrais, Pilates, exercise and nutritional recommendations. Most insurances gladly accepted.
---
Medical Services Provided in the Salida area include:
Allergy & Asthma Anesthesiology Cardiology Cardiopulmonary Therapies Chemotherapy Clinical Psychology Dental Ear-Nose-Throat Eye Care Emergency Room Family Practice Foot and Ankle Surgery Gastroenterology General Surgery G.I. Endoscopy Gynecology Internal Medicine Medical Imaging (including Digital Mammography) Obstetrics Oncology Ophthalmology Orthopedic Surgery Pathology Pediatric A.D.D. Pediatric Cardiology Podiatry Primary Care Radiology Rehabilitation (Occupational, Physical and Speech Therapy) Sports Medicine Urology Please note there are several extended care homes in the community. Contact the chamber for more information.
---