---
Kristina K Bengala – Winter Solstice Ceremony + Sound Bath – December 21 &Rejuvenate: Acupuncture, Breath & Sound Healing Dec 28
Winter Solstice Ceremony + Sound Bath
Thursday, Dec 21st
6 – 8p
$25
Yule is the time of the winter solstice, when the sun child is reborn, representing the return of all new life. Join Kristina K Bengala as we reflect upon our inner Divinity, flow with our methodical breath into the lunar rhythm of the night, and heal to the vibrational sounds of our voices, the crystal and tibetan bowls all under the canopy of oneness lit by candles and restored by love.
​
All are welcome. No experience needed.
Please bring a yoga mat, blankets, pillow, warm layering clothes, a journal, an open mind and something of intention for the sacred alter. Please arrive early to settle into the space. Thank you.
INVESTEMENT :
$25 cash at door OR pre-register $20 by venmo @kkbengala
Pre-registration is recommended.
Email connect@kkbengala.com to RSVP.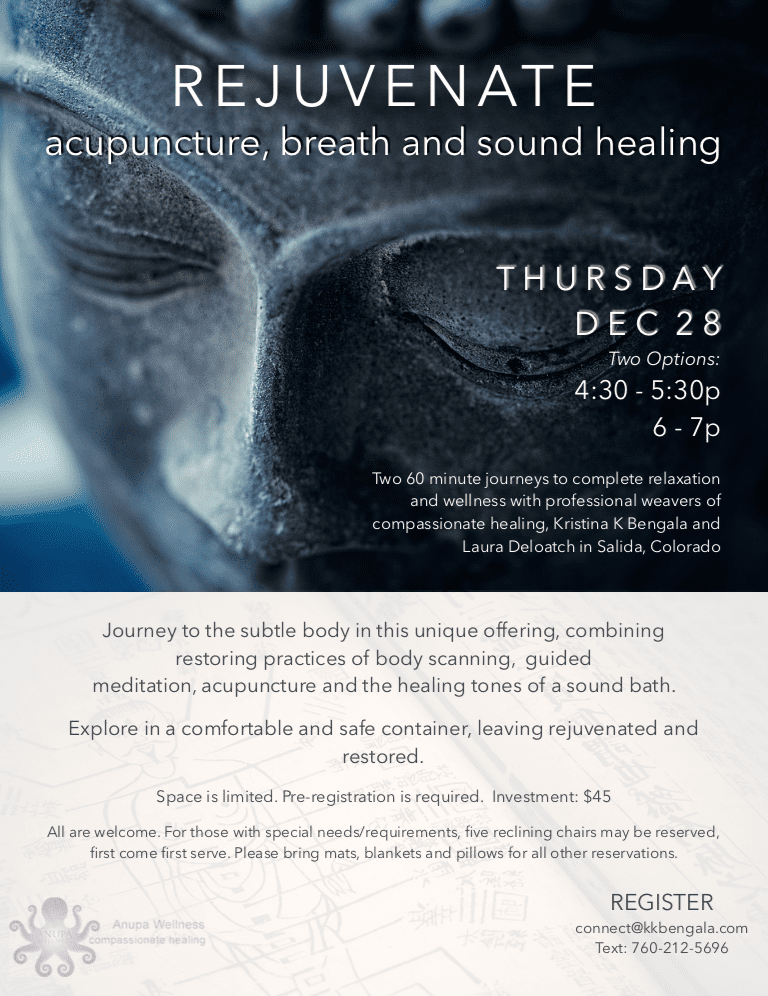 Rejuvenate: Acupuncture, Breath & Sound Healing
Thursday, Dec 28th
4:30 – 5:30p AND 6 – 7p (choose one to attend)
Two 60 minute journeys to complete relaxation and wellness with professional weavers of compassionate healing, Kristina K Bengala and Laura Deloatch in Salida, Colorado. Journey to the subtle body in this unique offering, combining restoring practices of body scanning,  guided meditation, acupuncture and the healing tones of a sound bath. Explore in a comfortable and safe container, leaving rejuvenated and restored. 
Space is limited. Pre-registration is required.  
Investment: $45 
All are welcome. For those with special needs/requirements, five reclining chairs may be reserved, first come first serve. Please bring mats, blankets and pillows for all other reservations. 
REGISTER by emailing Kristina at connect@kkbengala.com or text: 760-212-5696