---
High Country Bank – October

The leaves are flying…October must be here! 
September was National Preparedness Month, and being that we live in an area that typically feels like paradise, we neglected to share with our customers some important information.  Our communities are full of natural beauty, but unfortunately things can go drastically wrong, very quickly, especially if involving a natural disaster.  We are not immune to floods, nor avalanches, nor wildfires.
The following consumer tips have been put together by the American Banking Association:
Assemble an emergency kit. The emergency kit should include first aid supplies, a flashlight, extra batteries, at least three days of non-perishable foods and water, towels and a supply of any necessary medications. Stay informed of the storm's path and progress by monitoring Wireless Emergency Alerts via text message and having a battery-powered radio or TV available.
Develop a family communications plan. Know how you will contact one another; how you will get back together, if separated; and what you will do in different situations. Having a plan can eliminate some of the stress and confusion.
Establish an evacuation route. Prior to a storm, contact your local American Red Cross to locate the shelter nearest you or download their Shelter Finder app. Identify the safest route to get there. Be sure to check if your local emergency shelter allows animals and family pets.
Secure your home. Outdoor furniture and other objects can pose a potential hazard. Turn off propane tanks and other utilities if instructed to do so by emergency personnel.
Protect financial documents. In the event of a disaster, you will need identification and financial documents to begin the recovery process. Safeguard important documents in a bank safe deposit box, computer storage devices (USB drive, CD/DVD), and/or waterproof storage containers, including:
· Personal identification (driver's licenses, birth certificates, military IDs, passports, etc.)
· Financial account information (checking, savings, retirement and investment accounts,
credit/debit cards)
· Insurance policies on all personal property, including appraisals and lists and photos of valuable items
· Ownership or leasing documentation for homes and vehicles (deeds, titles, registrations, rental agreements, etc.)
· All health and medical insurance documentation.
May we never have to need these suggestions, but if you do, whether you are at home or traveling, know that High Country Bank will do their best to support you in those challenging times.
Charity of the Month
High Country Bank is proud to announce its October Charities of the Month; Habitat for Humanity in Salida, Buena Vista, and in Cañon City.
High Country Bank Continues Support of Salida Soup
It is with pleasure that High Country Bank continues to support Sellars Project Space as they orchestrate Salida Soup, which is a monthly community-based potluck where participants, through this micro-granting dinner, assist a variety of projects in the Upper Arkansas River Valley.
Arkansas Valley Humane Society
ATV Fall Color Tour
Walden Chamber Music
High Country Bank is proud to support the Walden Chamber Music Society.  Walden Chamber has brought extraordinary classical music to the Arkansas Valley since 2003.  To learn more visit WaldenChamberMusic.org.
Central Colorado Foodshed Alliance Shedfest
High Country Bank is happy to support the Colorado Foodshed Alliance.  The Foodshed sprouted in 2007 with support from local citizens.  Their annual event, Shedfest, is a local, harvest season celebration that highlights the vibrancy of our communities and the abundance of our region, and HCB is proud to be a sponsor. To learn more visit www.foodshedalliance.com.
Grainery Food Drive
For the month of October High Country Bank will be having a food drive to benefit the Grainery in Salida, Colorado. Stop by and drop off a non-perishable food item to benefit our local food bank, and receive a reusable canvas High Country Bank grocery bag.  Allow us to thank you for giving back to a vital organization in our community.
High Country Bank presents Oktoberfest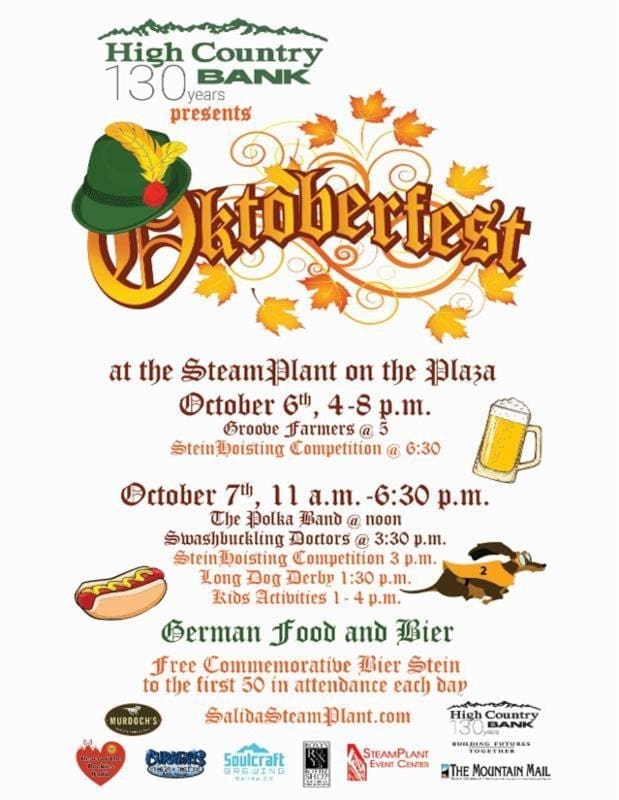 Lights, Camera, Savings!
High Country Bank is participating in the American Bankers Association foundation Lights, Camera, Save! video contest to engage teens in educating themselves and their peers about saving and using money wisely.  We're looking for creative, innovative concepts – your childrens' imaginations are the only limit to coming up with unique savings scenarios! Winning videos will be posted on YouTube and viewed by people across the globe. The contest is free and open to all students age 13-18, with the videos of local winners moving on to the national competition. The entry period is Oct. 1- Dec. 1, 2017.
The top three national winners of Lights, Camera, Save! will receive awards of $1,000, $2,500 or $5,000 to fund their savings goals. The three local winners will receive $100, $250, or $500. There will be a local people's choice award held on Facebook. The winner will receive $100. The teacher of the local grand prize winner will win $100 to spend in their classroom.
Visit
www.highcountrybank.net/Media/HighCountryBank/pdf's/lights-camera-save-rules.pdf 
or www.LightsCameraSave.com (check out last year's winners) to learn more.
Please contact Robin NeJame at robin.nejame@highcountrybank.net for more information.
_________________________________________________________________________________________________________
LAST CHANCE TO WIN YOUR COMMEMORATIVE HIGH COUNTRY BANK MUG!!!