---
High Country Bank – May

May is Older Americans Month
Dear Friends,
The next time you receive a frantic call from someone saying they are your grandchild and asking for money, make sure it's actually your grandchild who's calling. According to the Federal Trade Commission, between 2012 and 2014, consumers reported more than $42 million in losses from scams involving the impersonation of family members and friends. This scam, commonly known as the "grandparent scam," is a form of financial abuse that deliberately targets older Americans.
To commit this crime, fraudsters call claiming to be a family member in serious trouble and in need of money immediately. The scammer might say he's stranded or has been mugged, and call in the middle of the night to add to the urgency and confusion. Once the money is wired, the victim later finds out that it wasn't their grandchild they were helping, it was a criminal.
"The grandparent scam has been around for years," said Gail Granzella, Executive Vice President of High Country Bank.  "As fraudsters become more sophisticated, it is extremely important for older Americans to confirm who they are speaking to before they act on any request and most importantly, before they send someone a large amount of money."
High Country Bank offers older Americans these tips to help them prevent impersonation fraud:
Confirm the caller. Fraudsters are using social networking sites to gain the personal information of friends and relatives to carry out their crimes. Verify the caller by calling them back on a known number or consult a trusted family member before acting on any request.
Don't be afraid to ask questions. Fraudsters want to execute their crimes quickly. The more questions you ask the more inclined they will be to ditch the scam if they suspect you're on to them.
Never give personal information to anyone over the phone unless you initiated the call and the other party is trusted.
Never rush into a financial decision and trust your instincts. Don't be fooled – if something doesn't feel right, it may not be right. Feel free to say no and get more information before you send money to someone.
We care about you, our customers.  We care about you, our community.  Please consider sharing this information with your neighbors who might be more vulnerable.
Warmly,
Your Friends at High Country Bank
Charity of the Month
High Country Bank is proud to announce its May Charities of the Month; Family Youth Initiatives in Salida and Buena Vista, and Starpoint in Cañon City.
High Country Bank Continues Support of Salida Soup
It is with pleasure that High Country Bank continues to support Sellars Project Space as they orchestrate Salida Soup, which is a monthly community-based potluck where participants, through this micro-granting dinner, assist a variety of projects in the Upper Arkansas River Valley.   In May a total of 581.50 was raised through Salida Soup and High Country Bank to support Colorado Tick-Borne Disease Awareness Association.  These funds will help COTBDAA have the resources to fund their education and prevention booth at the upcoming Chaffee Home and Garden Show.
Food Drive
From now until Thursday, May 11th, High Country Bank will be having a food drive to benefit the Grainery in Salida, Colorado. Keller Williams reached out to HCB asking if they would be a designated drop-off location as Keller Williams employees take part in "Red Day".  On Red Day (May 11th), Keller Williams closes its office doors and helps the community. Their Salida office is conducting a summer food drive, and High Country Bank Salida highway location will have bins set up to assist them, as we all help the Grainery in their efforts to ensure that our community has a well-stocked food pantry. Stop by and drop off a non-perishable food item.
Arkansas Valley Humane Society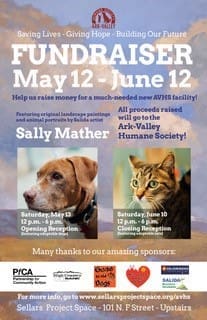 Collegiate Peaks Chapter of Trout Unlimited
Colorado Trout Unlimited has over 10,000 members representing 23 chapters across the state. They act as advocates and conservators for their home rivers, conducting projects in stream restoration, water quality protection, and more. The on-the-ground, grassroots efforts of their members and volunteers are what set CTU apart from most other conservation groups.  High Country Bank made a donation to Collegiate Peaks Chapter of Trout Unlimited this past month, to support their Caddis Banquet.  This annual fundraiser will be held on May 6th, 5 – 9 pm at the Chaffee County Fairgrounds. For more information visit :  http://www.collegiatepeakstu.org/banquet.
Royal Gorge Rodeo
The Royal Gorge Rodeo presented by the Cañon City Rodeo Association is the oldest continuous rodeo in Colorado, and High Country Bank is excited to help sponsor this year's events.
May 5th at 7 PM is the First Annual Royal Gorge Youth Rodeo
May 6th at 7 PM is PRCA Extreme Bull Riding
June 9 – 10 is the Royal Gorge Rodeo
Come on out, get back in the saddle again, and support your local rodeo.
Salida Mountain Trails
SMT (Salida Mountain Trails) has been busy building and maintaining many trails in our beautiful valley since 2004. Whether you walk, trot, jog, hike or bike on these trails, come on out, join the fun! High Country Bank is proud to help sponsor SMT's annual Membership Fundraiser Party, on May 20th, 2017, 5 – 8 pm, at the Boathouse.  The membership program is an easy and important way to give back to SMT.  Support a cause that enriches our community through fitness and fun.
Create Cañon City Balloon Classic
High Country Bank is proud to sponsor the third annual Create Cañon City Balloon Classic.  This event will be held May 26 – 28 at the Abbey in Cañon City.  This year's schedule includes a 24 mile mountain bike ride, a run, a kite flying demonstration, rocket launches, sky diving demonstrations, wine tasting, arts, crafts, live music, a variety of food vendors, and more.There will be something for everyone.  We hope to see you there.
CKS Paddlefest
The big bang that starts off our incredible river season in the Arkansas River Valley is Paddlefest, which falls on Memorial Day weekend, May 26 – 28.  If you're looking for a way to get involved in river sports, ready to hone your skills, or just want a good party that involves playing on water, this is the place to be.  Clinics, competitions, races, and concerts make it a weekend not to miss!  High Country Bank is happy to help sponsor this kick-off to river season.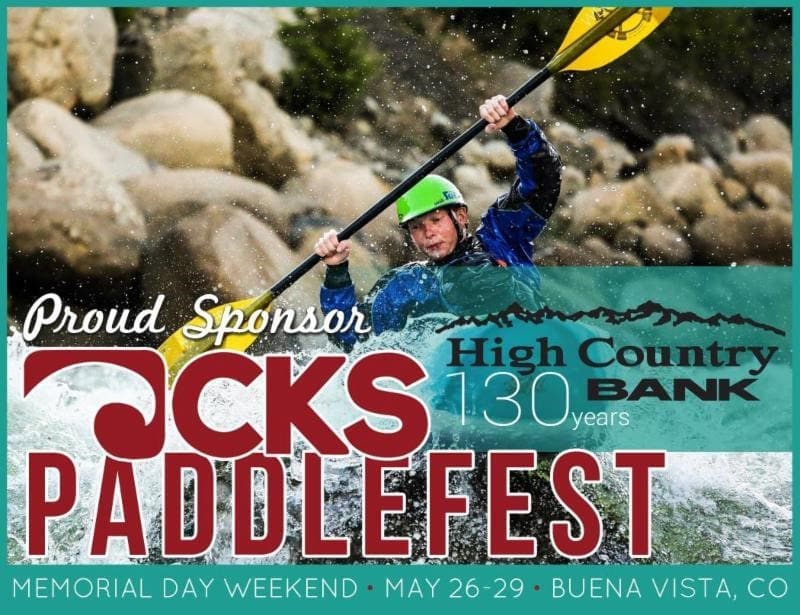 Blue Grass on the Arkansas
Bluegrass on the Arkansas, an annual fundraiser for the Salida Rotary Club, will be back Memorial Day weekend this year, May 27th and 28th.  High Country Bank is proud to be a major sponsor of this year's event.  Bands will perform Saturday evening starting at 6:00 p.m in the Riverside park and then on Sunday starting at noon in Riverside Park.  The Salida Circus will be performing on Saturday at 5:30 and then on Sunday at 11:30 a.m. In addition to the line-up of bluegrass bands, games are available for kids, making this a fun day for families. The Salida Rotary Club serves food and drinks as a fundraiser to help the youth of our community in the form of vocational and scholastic scholarships.  And of course, a selection of beer, wine, and sodas are available for purchase.  Admission to Bluegrass on the Arkansas is free. Donations are encouraged in support of the Salida Rotary Club's scholarship fund.
Where's the Cash?????
Please like us on Facebook and learn how you can win a wonderful travel coffee cup, the softest of hoodies, gift cards to local merhants, or $130.00.  No purchase necessary. Click here to see Contest Rules!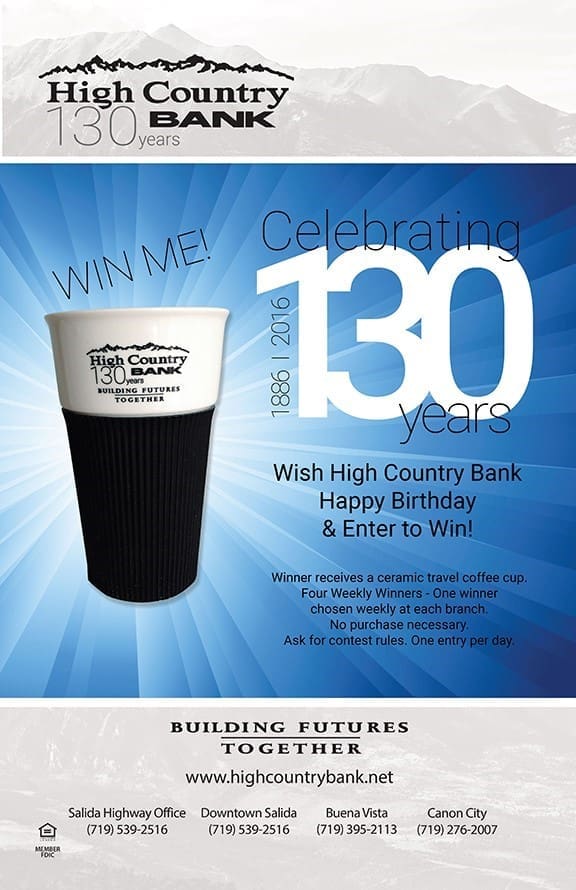 We are grateful to have the opportunity to engage our neighbors and work with them in "Building Futures Together."  Visit us at www.highcountrybank.net and please like us on Facebook www.facebook.com/HighCountryBank.   Member FDIC.