---
High Country Bank – March

 National Consumer Protection Week is March 5 – 11
Dear High Country Bank Customers,
In recognition of National Consumer Protection Week, March 5 – 11, your friends at High Country Bank would like to provide you with some important information regarding EMV chip technology.
To help bankers educate lawmakers, customers, and the public about the growing security benefits of the switch to EMV chip technology in cards, the American Banking Association is releasing a new infographic showing that consumers are "unquestionably safer" than before EMV's widespread adoption.
More than 700 million chip cards have been issued in the U.S. market, and nearly one-third of U.S. merchants are accepting chip card transactions. Nearly 100,000 merchants become chip-ready each month. As a result, counterfeit fraud is down by more than half, year-on-year.
The infographic emphasizes that the chip itself is key to preventing counterfeit card fraud, which accounts for nearly half of all payments fraud. Adding a requirement for PINs, a dated security protocol advocated by the retail industry, would help prevent fraud with lost and stolen cards — which accounts for less than 10 percent of fraud. "At a time of unprecedented cyber-attacks, continued innovation is needed to secure transactions wherever they occur," the infographic says. "That's why, in addition to their work to advance EMV adoption, banks and payment networks are deploying dynamic technologies capable of fighting online theft and other evolving threats."
Please click here to see the infographic: http://www.aba.com/Press/Documents/EMV_Infographic.pdf
It is our job and our priority to keep our customers safe.  When you receive what might seem like an alarming call from your financial institution, know it is because protections are in place allowing us to monitor your accounts.  Your security matters to us.
Warmly,
Your Friends at High Country Bank
Charity of the Month
High Country Bank is proud to announce its March Charities of the Month; Neighbor to Neighbor in Salida and Buena Vista, and Fremont County Crime Stoppers in Canon City.
High Country Bank Continues Support of Salida Soup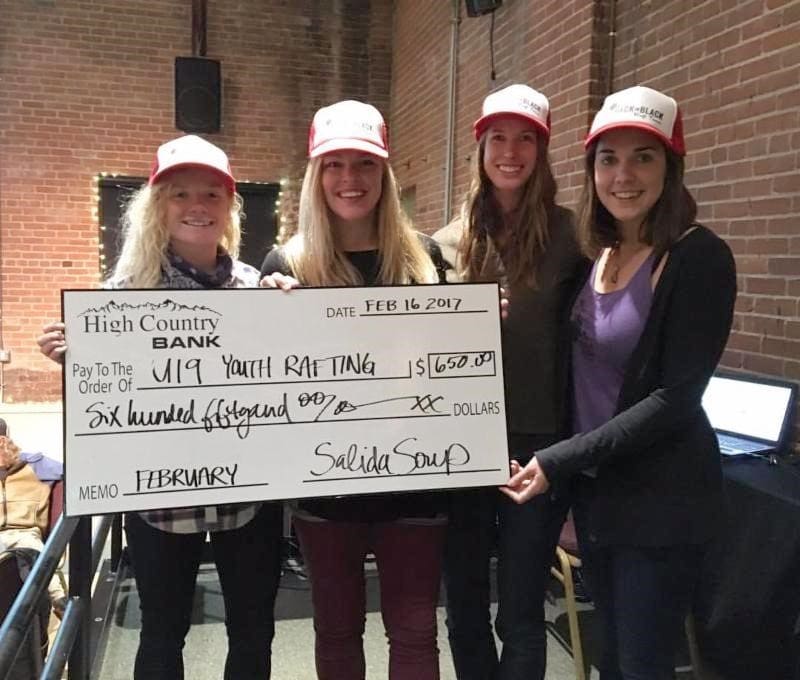 It is with pleasure that High Country Bank continues to support Sellars Project Space as they orchestrate Salida Soup, which is a monthly community-based potluck where participants, through this micro-granting dinner, assist a variety of projects in
the Upper Arkansas River Valley.  February's winner was U19 Youth Rafting, helping for the training of a U19 team, with hopes that they will make it to Nationals next season.  They also have hopes to start a Master's (age 40+) team this year.  A$250.00 donation was made by HCB and $400 was donated by the "souper" participants that came out for soup!
HCB supports Salida and Buena Vista After-Proms
It gives us great pleasure to support Salida and Buena Vista after-proms.  These events provide a safe, supervised, and fun alternative for 9 – 12 grade students, after the prom.  We are grateful to all of the parents, students, community businesses, and school district employees that work hard to ensure that the children of our community have a spirited and memorable prom night.
BV Girls Basketball
High Country Bank made a donation this past month to Buena Vista High School Girls Basketball.  This annual dinner/fundraiser is organized by the players and the coaches. Money raised goes towards equipment, uniforms, and summer basketball camps.
Crest Academy
Crest Academy Students spent time at High Country Bank in February, opening up bank accounts in preparation for their Market Days event.  This March, Crest students will be using their entrepreneurial skills by selling products and ideas that they have created over the past months, raising money for their eighth grade school trip.  Crest Academy is an experiential program in the Salida School District, allowing children to have a hands-on experience throughout their middle school years.
Facebook CONTEST
Please like us on Facebook and learn how you can win a wonderful travel coffee cup, the softest of hoodies, gift cards to local merchants, or $130.00.
Buena Vista Branch and Teller Get Kudos
Congratulations to our Buena Vista team, as they just received the honor of being named Bank of the Year in Buena Vista by the Chaffee County Times, and an enormous congratulations to Kimalee Armstong, a runner-up to the Teller of the Year in Buena Vista.   Kimalee you stand out in our community for a reason. Thank you for being an integral part of our HCB family.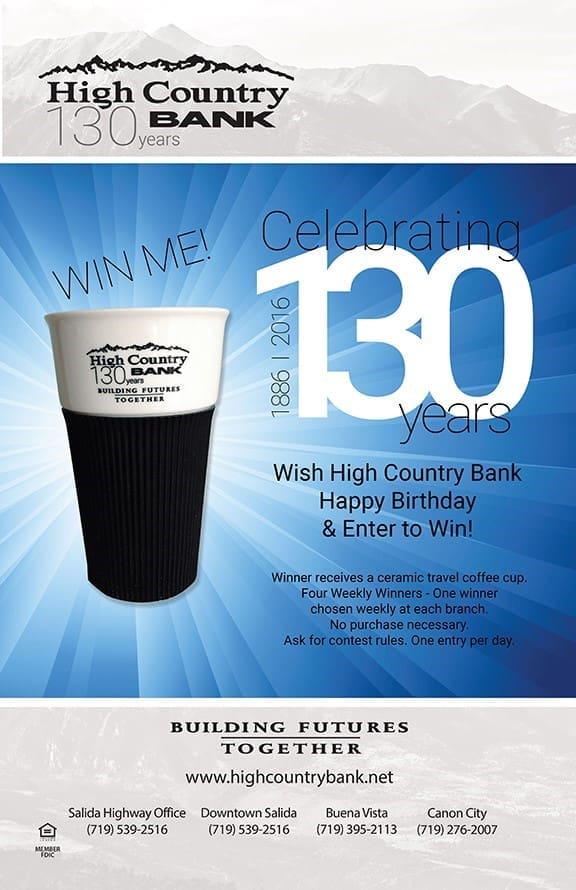 We are grateful to have the opportunity to engage our neighbors and work with them in "Building Futures Together." Visit us at www.highcountrybank.net and please like us on Facebook www.facebook.com/HighCountryBank. Member FDIC.