---
High Country Bank – February

"America Saves Week" kicks off in February! 
Dear Customers,
America Saves Week is coordinated by America Saves and American Saving Education Council.  Started in 2007, this week is an annual opportunity for organizations to promote good savings behavior and a chance for individuals to assess their own saving status.  From February 26 to March 3rd the American Banking Association observes this important consumer awareness week.
Credit to Jessica Dickler, taken from CNBC, published 8:15 am ET Tue, 20 June 2017
About 57 million Americans have no emergency savings
The percentage of those lacking an emergency fund is down to 24 percent this year, according Bankrate.com.
However, 32 percent of those ages 53 to 62 said they had zero dollars saved, more than any other age group.
For many Americans, a single unplanned expense could set them in a tailspin. Worse yet, those who will likely need a rainy-day fund the most are also the least prepared.
When broken down by age, young boomers fared the worst: Nearly one-third, or 32 percent, of those ages 53 to 62 said they had zero dollars saved in an emergency fund, compared with 24 percent of all others ages 18 or older, according to a Bankrate.com survey of 1,000 adults conducted this month. (Older boomers – over age 63 – were much more likely to have something set aside.)
Generally, the likelihood of having saved at least six months of expenses increases steadily with age, Bankrate said. Yet for younger boomers, "It's a reflection of prolonged unemployment in the years following the financial crisis," said Greg McBride, Bankrate's chief financial analyst.
And for this generation, facing the very real possibility of increased medical expenses in the near term, an unplanned bill can come at a severe cost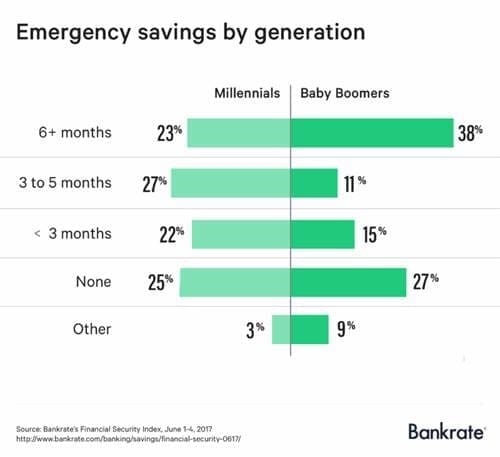 "It's one thing to burn through your emergency savings but the problem mushrooms when people start raiding their retirement," McBride said.
Older Americans have also become steadily more pessimistic about their economic prospects, according to a separate study by United Income, a start-up that aims to apply big-data analysis to financial planning.
Overall, however, Americans are doing a better job at saving. Those with some savings, but not enough to cover three months' expenses, rose to 20 percent from 18 percent last year. Americans with enough savings to cover three months to five months of expenses also edged higher to 17 percent from 16 percent. And those who have enough to cover six months' expenses jumped to 31 percent from 28 percent last year, a new high since Bankrate began tracking the data seven years ago.
McBride recommends stashing at least a six-month cushion to cover anything from a dental bill to a car repair – but more if you are the sole breadwinner in your family or in business for yourself.
To get there, he suggests paying yourself first. "Set up a direct deposit from your paycheck into a dedicated savings account. If you wait until the end of the month, nothing will be left over," he said.
If there is, in fact, a surplus once all expenses have been paid out, "that gives you a second bite."
Here's the 411 on how to kick-start your emergency fund (when you click on this link, check out the fun 411 video):  https://www.cnbc.com/2017/06/20/about-57-million-americans-have-no-emergency-savings.html
We hope that this little bit of information can help you achieve your financial goals.
Warmly,
Your Friends at High Country Bank
Charity of the Month
High Country Bank is proud to announce its February Charities of the Month; A Little Help in Salida, The Alliance in Buena Vista, and Heart of Colorado CASA in Cañon City.  High Country Bank has been choosing a Charity of the Month for over 20 years. All notary fees for the given month are donated to this charity, along with a $100.00 donation to that organization. There are also donation jars next to each teller window which allow the public to make a donation to the organization as well.
High Country Bank Continues Support of Salida Soup 
It is with pleasure that High Country Bank continues to support Sellars Project Space as they orchestrate Salida Soup, which is a monthly community-based potluck where participants, through this micro-granting dinner, assist a variety of projects in the Upper Arkansas River Valley.  January's Salida Soup "pot" traditionally goes right back to the the Sellars Project Space, which graciously coordinate this monthly event, that brings great benefits to our community.  Thank you to Jimmy Sellars and Mark Monroe for putting our community first.  High Country Bank proudly donated $250.00 this past month, to make sure that the soup pot stays warm.  If you would like to learn more about Salida Soup or if you would like to make a donation, please visit www.gopfca.com/salida-soup/
Salida School's Staff Appreciation 
Every year Evalyn Parks, Transportation Director of Salida School District selflessly donates her time in ensuring that the School District staff is celebrated during their annual staff appreciation week, the first week of April.  High Country Bank wants the School District staff to know that they are supported and appreciated…we are pleased to make a donation to this well-deserved recognition event.  If you would like to make a donation to this celebration, please contact Evalyn at 530-5231.
Salida Babe Ruth Baseball 
High Country Bank is pleased to support Salida Babe Ruth Baseball.  This sponsorship helps make sure that the local summer baseball program for children ages 4 – 18 continues with vitality. To learn more about Babe Ruth Baseball please contact Rusty Granzella at russellgranzella@yahoo.com.
Salida Middle School's GOT TALENT 
High Country Bank is happy to make a donation to Salida Middle School's GOT TALENT.  This annual event put on by the Salida Middle School Parent Teacher Organization will be held on February 8th at the Salida High School auditorium.  Come on out and support local talent.
The Alliance Chocolate Lover's Fantasy 
The Alliance is excited to announce the 33rd ANNUAL CHOCOLATE LOVER'S FANTASY on Saturday, February 10th from 5:30 pm to 8:00 pm at Buena Vista Community Center.  This longstanding fundraiser will have something for everyone; appetizers, wine, beer, live music, and lots of CHOCOLATE.  High Country Bank is proud to sponsor this event, as we believe that the work of the Alliance is absolutely vital to our community.   To learn more please visit www.alliancechaffee.org.
Happy Chinese New Year, Salida! 
Salida Creativity Lab presents Happy Chinese New Year, Salida!, a dragon parade and multicultural celebration. This event will be held on February 16th at Alpine Park and at the Steam Plant, and is FREE for the community.  Come see over 200 talented children, ages 3 and up, as they share their love of movement and creativity.  High Country Bank is a proud "Golden Dragon Sponsor."  To learn more visit www.salidacreativitylab.com.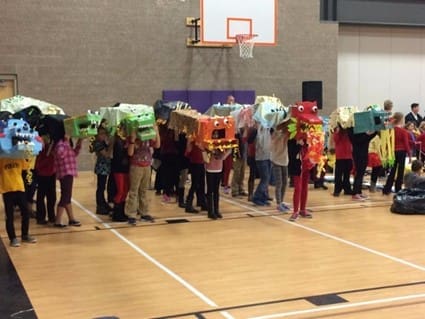 High Country Bank Volleyball 
High Country Bank is so excited to support our employees and their teammates as they participate in adult volleyball league.  We wish all the players luck and hope that they have fun staying fit!
We are grateful to have the opportunity to engage our neighbors and work with them in "Building Futures Together." Visit us at www.highcountrybank.net and please like us on Facebook www.facebook.com/HighCountryBank.   Member FDIC.