---
High Country Bank – April

April is National Financial Literacy Month
_____________________________________________________________
Dear Friends,
In honor of National Financial Literacy Month, High Country Bank would like to provide you with "Seven Steps to Spring Clean Your Finances."  The season for spring cleaning has arrived.  While many may be focused on organizing closets or scrubbing floors, we want to encourage you, our customers, to clean up your finances.
"Spring is a great time to take a hard look at your finances and identify ways to manage them more efficiently," said Gail Granzella, Executive Vice-President of High Country Bank. "By getting your financial house in order, you can set the stage for a stronger, more successful future."
Allow us to offer the following tips to help you cut back on financial clutter this spring:
Evaluate and pay down debt. Take a look at how much you owe and what you are paying in interest. If there are better rates available now, consider requesting a lower credit card interest rate or refinancing your mortgage. Begin paying off existing debt, whether that's by chipping away at loans with the highest interest rates or eliminating smaller debt first.
Review your budget. A lot can change in a year. If you've been promoted, had a child, or become a single income household, be sure to update your budget. Determine what expenses demand the most money and identify areas where you can realistically cut back. Develop a strategy for spending and saving and stick to it.
Check your credit report. Every year, you are guaranteed one free credit report from each of the three bureaus. Take advantage of these free reports and check them for any possible errors. Mistakes can drag down your score and prevent you from getting a loan, or cause you to pay a higher than necessary interest rate.
Sign up for paperless billing. Converting to paperless billing will help keep your house, physical and financial, more clean and organized.  Please click here to learn more:  https://www.highcountrybank.net/personal-e-statements-faqs.
Set up automatic bill pay. By signing up for automatic bill pay, you'll never have to worry about a missed payment impacting your credit score. You can set it so that money is withdrawn from your checking account.  Please click here to learn more:  https://www.highcountrybank.net/personal-online-services.
Consolidate your accounts. Managing several accounts can be challenging. If you have open accounts that you rarely use, consider closing them. It's important to note that cancelling accounts may come with a fee or impact your credit score. Other options include streamlining all your accounts under a single bank, or using a bill management service that allows you to view all of your financial accounts, bills, subscriptions and travel rewards in one place with a single password.
Download our mobile app. High Country Bank offers a mobile app that allows our customers to manage their finances from the palm of their hand. With the click of a button, you can make a deposit or access a record of all your recent transactions.
Spring is around the corner.  May these tips help you alleviate your "financial clutter."
Warmly,
Your Friends at High Country Bank
Charity of the Month
High Country Bank is proud to announce its April Charities of the Month; Angel of Shavano Hospice in Salida, Premier in Buena Vista, and Orchard of Hope in Canon City.
High Country Bank Continues Support of Salida Soup
It is with pleasure that High Country Bank continues to support Sellars Project Space as they orchestrate Salida Soup, which is a monthly community-based potluck where participants, through this micro-granting dinner, assist a variety of projects in the Upper Arkansas River Valley.
HCB Supports Cotopaxi Prom
It gives us great pleasure to support the Cotopaxi after-prom.  This event provides a safe, supervised, and fun alternative for 9 – 12 grade students, after the prom.  Students will enjoy games, open gym, movies, door prizes, refreshments, and have a chance to win several large prize items.  We are grateful to all of the parents, students, community businesses, and school district employees that work hard to ensure that the children of our community have a spirited and memorable prom night.
Salida Youth Wrestling Association
High Country Bank made a donation this past month to the Salida Youth Wrestling Association.  SYWA hosts an annual tournament hosting 300 – 400 wrestlers. This enormous undertaking relies on community support, and HCB is happy to be part of the team of sponsors.
Crest Academy Market Night
On March 13th, Crest Academy students hosted their annual Market Night event, raising money for their class trip.  High Country Bank proudly matched profits up to $500.  "Crest Academy students displayed their entrepreneurial skills by selling products and ideas that they have created over the past months.  Market Night provides children with hands-on experience in business planning, loans, interest, budgeting, and more.  We are excited to see the youth of our community using their skills in real-life situations," shared Jodi Baldwin, High Country Bank's Vice-President of Operations.
KHEN's Annual Birthday Bash
KHEN's Annual Birthday Bash will be held on April 1st at the Absolute Cafe in Salida (formerly River's Edge).  High Country Bank supports the KHEN community and public radio. Come on out and celebrate KHEN's 14 years!
Upper Arkansas Service Club Easter Egg Hunt
Come on out to Thonhoff Park on April 15th at 9:45 am to see the Easter Bunny!  The Annual Easter Egg Hunt begins at 10 am sharp.  High Country Bank is happy to contribute to the Upper Arkansas Service Club as they work very hard to ensure that the children of our community have a tradition to remember.
Boys and Girls Clubs of Chaffee County Casino Night
High Country Bank is proud to be the Title Sponsor for Boys and Girls Clubs of Chaffee County's 4th Annual Casino Night Fundraiser.  This event will be held on Saturday, April 22, doors opening at 6 pm.  Please come on out to the Chaffee County Fairgrounds for appetizers, libations, music, door prizes, casino games, and support an organization that "inspires and enables all young people, especially those who need us most, to become caring, productive, and responsible citizens."
Where's the Cash?????
Please like us on Facebook and learn how you can win a wonderful travel coffee cup, the softest of hoodies, gift cards to local merchants, or $130.00.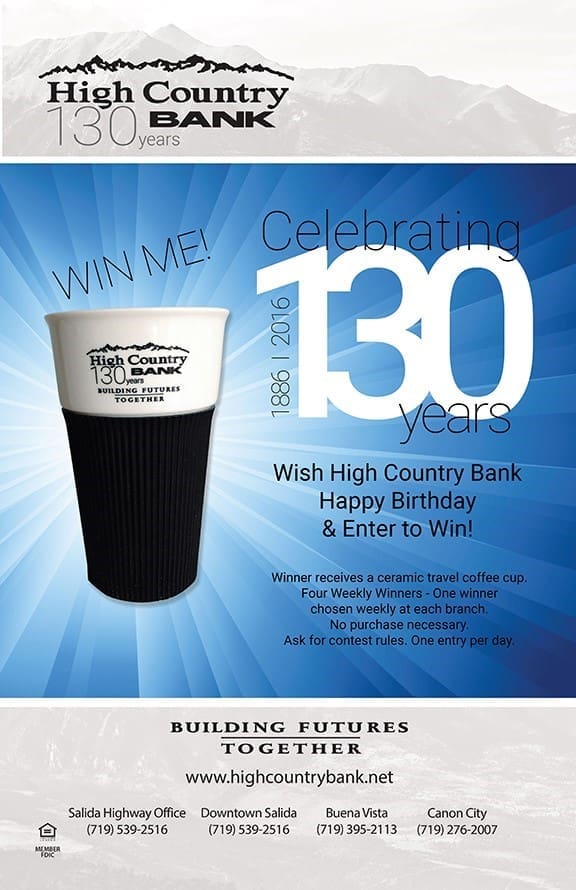 We are grateful to have the opportunity to engage our neighbors and work with them in "Building Futures Together."  Visit us at www.highcountrybank.net and please like us on Facebook www.facebook.com/HighCountryBank.   Member FDIC.