---
High Country Bank – January

A very Happy New Year from your friends at High Country Bank!
Recognizing our Valuable Staff
CO-EMPLOYEE OF THE YEAR
Jackie Castillo, Customer Service Representative at Buena Vista Branch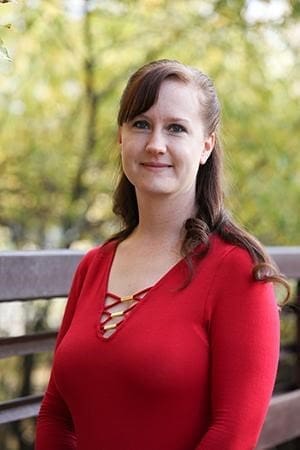 What Jackie's peers shared..
"Jackie is always asking others if they need help and working with others on items that they are learning. She is great at the new CSR position, but we always find her on the Teller line helping out when times are busy. She does more than the job description requires. She is very flexible and willing to learn and teach when the times call for it."
"If you are learning a specific duty or task and you have forgotten something, she will remind you but she does not mind taking care of it especially if you are behind or having a hard day. You can always count on Jackie."
"She steps up to the task set before her.  She is good about being aware of what is going on around her and is always available to either step in or help unsolicited, or if asked to assist she is there for you.  It is apparent that Jackie enjoys being a part of the High Country Bank team."
CO-EMPLOYEE OF THE YEAR
Mindy Hilbert, Teller III at Cañon City Branch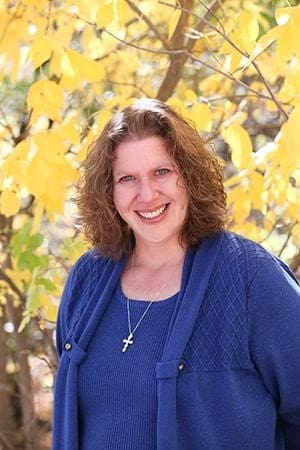 What Mindy's peers shared…
"Mindy Hilbert is the perfect example of "Team Player".  She graciously volunteered to train tellers in our Salida office.  She has been driving back and forth between Cañon City and Salida without complaint!  She is professional, knowledgeable and caring with a positive attitude to share with our new employees.  I have no doubt that she will make a big difference in their development!"
"As Mindy Hilbert has been my personal trainer, I have observed her with our customers. She is absolutely amazing…her style, her super attitude, and the way she carries herself is so, so professional."
"Our customers love Mindy.  She is very personable and cares for our customers."
CUSTOMER SERVICE AWARD
Melinda Felt, Customer Service Representative, Highway Branch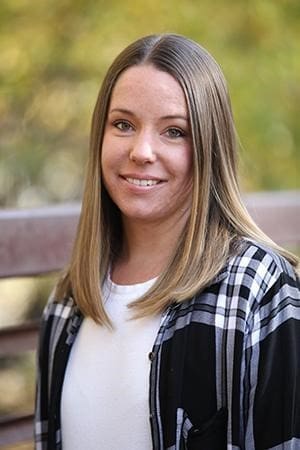 What Melinda's peers shared…
"Melinda Felt is my choice for outstanding customer service. I chose Melinda because she is so friendly, professional and does everything in a timely manner. She has a great sense of humor too and opens accounts quickly and efficiently for us loan people as well as deposit customers."
"Melinda is very pleasant to work with. No matter how busy she is, she always takes the time to get the loan department construction checking accounts to us in a timely manner."
" Melinda always has a smile on her face and is willing to help where ever needed. Melinda demonstrates excellent customer service skills and is quickly building her client base of customers that request her assistance."
TEAM PLAYER AWARD
Samantha Shake – Loan Specialist, Highway Branch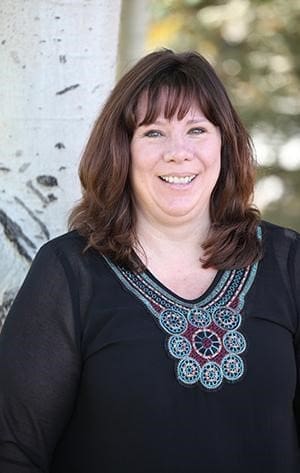 What Samantha's peers shared…
"Samantha Shake is my team player. No matter what the problem is she always takes the time to help someone in need get their task done and it benefits not only the person she is helping, but the loan borrowers as well and everyone is happy and can move forward!"
"Samantha Shake is such a team player. You can always turn to her for questions. She will pick up extra duties to help out our department even when she has a full "plate.""
"No matter how busy she is, she is always willing to help.  With questions, answering the phone, and just about everything in between."
ROCK STAR AWARD
Brenda Spezze – Vice President E-Banking, Highway Branch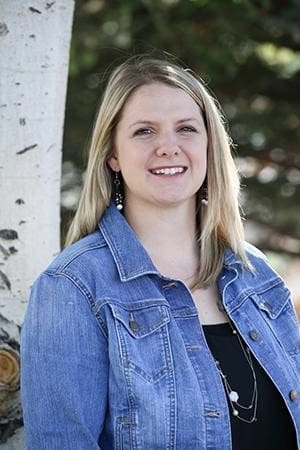 What Brenda's peers shared…
"Brenda Spezze is the true definition of a ROCK STAR employee. She is always there to answer questions and help you trouble shoot things. She has a vast knowledge of each department and is always willing to step up and step in if need be. She is always working towards bring the best and most upcoming products to High Country Bank."
"Brenda Spezze demonstrates a Rock Star.  She is solid, a hard worker, and accomplishes many tasks with a smile on her face.  She makes it a pleasure coming to work."
"Brenda is a team player.  She is always willing to help with tellers, the CSRs and even the front desk.  Brenda is very professional and yet so personable and gentle when working with customers."
Charity of the Month
High Country Bank is proud to announce its January Charities of the Month; The Grainery in Salida, Arkansas Valley Christian Mission in Buena Vista, and Golden Age Center in Cañon City.  High Country Bank has been choosing a Charity of the Month for over 20 years. All notary fees for the given month are donated to this charity, along with a $100.00 donation to that organization. There are also donation jars next to each teller window which allow the public to make a donation to the organization as well.
High Country Bank Continues Support of Salida Soup
It is with pleasure that High Country Bank continues to support Sellars Project Space as they orchestrate Salida Soup, which is a monthly community-based potluck where participants, through this micro-granting dinner, assist a variety of projects in the Upper Arkansas River Valley.  December's Salida Soup winner was Manifest Action Sports, who hope to bring BMX bicycle training and assistance to Salida youth.  High Country Bank's monthly $250.00 donation was matched with over $200.00 in donations from our local community.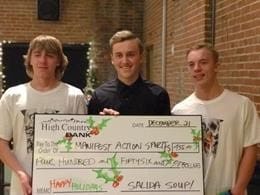 The Giving Tree 
Every year the Canon City Branch participates in the "Giving Tree",  sponsored by Toys for Tots, to bring toys and gifts to the children of Fremont County.  The tree is filled with ornaments with a child's age and gender.  Our generous customers retrieve the ornaments and purchase a gift and bring it back to place under the tree.  For many years we have had a very generous Cañon City couple, Stuart and Susan Phelps donate 90% of these gifts making it a very Merry Christmas for the children of Fremont County.  A warm thank you to Mr. and Mrs. Phelps and the Fremont County Community for making this holiday season extra-special for the children of our community.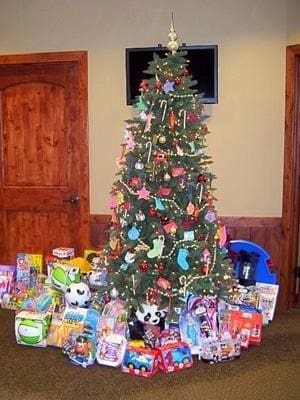 Grainery Food Drive
For the month of January High Country Bank will be having a food drive to benefit the Grainery in Salida, Colorado. Stop by and drop off a non-perishable food item to benefit our local food bank.  As the holiday comes to a close, the Food Bank could use the generosity of the community to help replenish its shelves.  High Country Bank and the Grainery appreciated our caring communities.
Colorado Farm to Table
High Country Bank is pleased to make a donation to Colorado Farm to Table.   Colorado Farm to Table's mission is to provide hunger relief for the needy and underprivileged men, women and families in crisis. To learn more visit www.coloradofarmtotable.org.
BV 9 Cares Colorado Shares
9 Cares Colorado Shares was held in Buena Vista last month at our local City Market. Several HCB employees helped out during the day with collecting non-perishable items and cash donations.  All donations go to the local mission.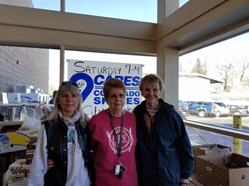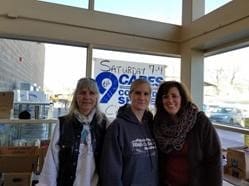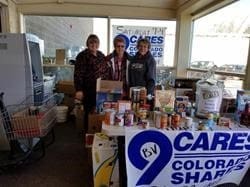 Salvation Army
High Country Bank employees rang bells for he Salvation Army last month. They collected over $500.00 in donations in support of this important organization.  A big thank you to our employees for your commitment to your community.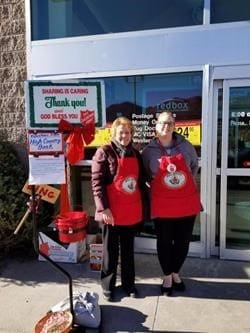 Lights, Camera, Save!  WINNERS ANNOUNCED!
High Country Bank is proud to announce the winners of the local "Lights, Camera, Save!" video contest put on by the American Bankers Association.  We would first like to express our appreciation to all of the entrants.  These local students worked hard and put a lot of effort into their work.
 1st Prize – $500.00 to Maya Vallevona. And Maya's school, Crest Academy, received an additional $100.00.
2nd Prize – $250.00 to Sawyer Cliff from Salida High School.
3rd Prize- $100.00 to Jake Denwalt from Salida High School.
People's Choice Award which was held on Facebook during the week of December 11th – $100.00 to Ryan O'Connor.
Congratulations to all of the winners!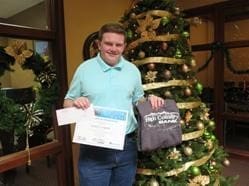 Ryan O'Connor receives his People's Choice Prize.
Tree of Hope
Your friends at High Country Bank would like to express our gratitude to the community members that so graciously donated to the Tree of Hope this holiday season.  Because of your heartfelt involvement, many people in this community will have a present under their tree this holiday season.
An extra special thank you to the following  individuals and organizations:  the ad team and the staff at the front desk at The Mountain Mail for all of their support, Heart of the Rockies Radio for getting the word out to the community, Columbine Manor, Safeway, and Wal Mart for generously placing a tree at their front entrances, Kaleidoscope Toys for offering their support to Tree of Hope ornament purchasers, the Secret Santas from Baba's Magical Christmas for always being willing to lend a hand and support.  Thank you to past Tree of Hope coordinators for entrusting High Country Bank with this very special tradition, the employees of High Country Bank, for not only their willingness to take this on, but for doing so with bells and whistles and open hearts, to Salida, Poncha Springs, Howard, Buena Vista and surrounding communities for their open hearts, and finally to the providers in the region…they show support on a daily basis, and they do so with absolute unconditional love.
We are touched to see our communities working together, ensuring that our neighbors have a special holiday season.  Please accept our heartfelt thanks.
We are grateful to have the opportunity to engage our neighbors and work with them in "Building Futures Together." Visit us at www.highcountrybank.net and please like us on Facebook www.facebook.com/HighCountryBank.   Member FDIC.