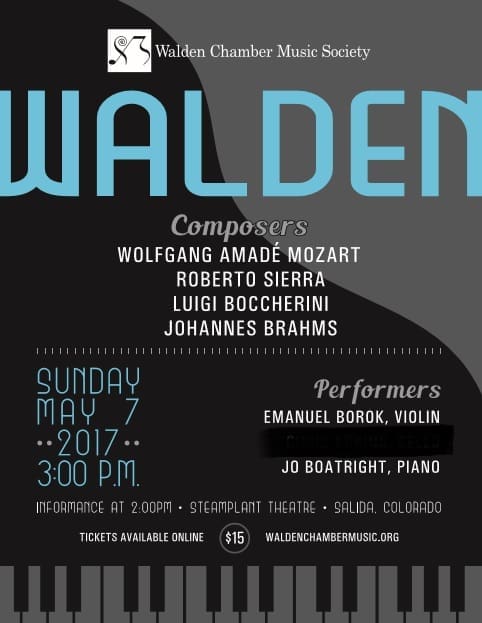 Walden Chamber Music Society
Final concert of the 2016-2017 Season
Sunday May 7, 3:00pm
Zack Reaves, cellist with the Altius String Quartet, now String Quartet in Residence at University of Colorado, will be joining Emanuel Borok, Concertmaster Emeritus of the Dallas Symphony Orchestra and Jo Boatright, pianist for the last concert of the Walden 2016-2017 season on May 7, 2017, 3:00 p.m. at the SteamPlant Theater in Salida.  Chris Adkins, Principal cellist of the Dallas Symphony Orchestra, is indisposed and will not be appearing in the concert.
The concert opens with Piano Trio in G Major, K564, for violin, 'cello and piano by Wolfgang Amade Mozart followed by
Two movements from F-A-E Sonata for Violin and Piano Frei aber einzam ("free but lonely")
          Intermezzo in F Major                                              Robert Schumann  (1810-1856)
 Scherzo in c minor    (Sonatensatz)                         Johannes Brahms  (1833-1897)
For the second half of our program we present Rondo from String Quintet in C Major by Luigi Boccherini 91743-1805), arranged for 'cello and piano by Carl Schroeder.  The final piece of the concert is Piano Trio in C Major, Op. 87 for violin, 'cello and piano by Johannes Brahms
Prior to the 3:00pm concert, Ms. Boatright will give a thirty minute informance beginning at 2:00pm, during which she will explain and demonstrate the music to be performed.
Tickets are $15/adult and free for students.  The tickets are available on our website, at the SteamPlant Theater box office, the Salida and Buena Vista Chambers of Commerce, and at the door prior to the concert. Free student tickets are  available at the door.
For more information contact Dale Kettering at (719) 395-6408 or visit our website at waldenchambermusic.org