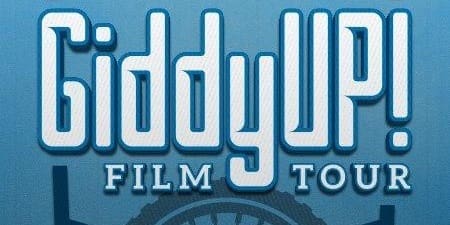 GiddyUP! Film Tour brings bicycle lovers together for a unique social event featuring the best in mountain bike cinema.
—
CHECK OUT THE TRAILER HERE: https://vimeo.com/200491856
—
DOORS @ 6. SHOW @ 7. TICKETS $15 – online here: http://bit.ly/giddyupfilms
—
Each event kicks off an hour or so before show time so you can knock back a cold one, catch up with riding buddies, check out the latest gear, and talk about ride plans for the coming season.
Once the curtain opens, GiddyUP! Film Tour unveils exclusive content from around the globe showcasing exactly why we all love to ride…
A love of tight and twisty singletrack, nailing that tricky technical section perfectly, grinding out a solid effort all the way to the top of a climb or simply shedding all the stress from a long day in the office.
The GiddyUP! Film Tour has donated $5,000 to the Amy D Foundation to help support their efforts to empower girls and young women in cycling.
We love local bike shops. They are the lifeblood of our sport, and they need our support to thrive and survive. We also love having access to great trails. IMBA has been the leading trail advocacy organization for mountain bikers since 1988.
We partner with local shops and IMBA chapters and affiliates wherever possible to ensure that a portion of our proceeds goes right back into the local bike community building trails and supporting advocacy efforts.
A portion of the proceeds from the Salida GiddyUP! Film Tour will be donated to Salida Mountain Trails.