---
Corvus: Clothing & Curiosities
132 F Street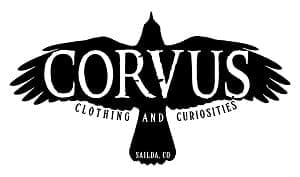 Salida, CO
719-207-4545
Follow Corvus on Facebook & Instagram
It's clothing for Men and Women.
It's rock n' roll and robots.
It's movies, monsters and masks.
It's shirts and shoes.
It's books and board games
If it's cool… it's Corvus.
Open Tuesday – Saturday, 11am – 6pm.
Sundays 12 – 4.
Mondays – Closed.
We are a pop culture emporium. We have loads of Rock N Roll T-Shirts, TV and Movie Collectables and quirky toys, as well as fun ladies clothes and shoes. With a background in theater and film, we want to bring something different and nostalgic to Salida.