---
Conservancy protects 86 acres on the South Arkansas River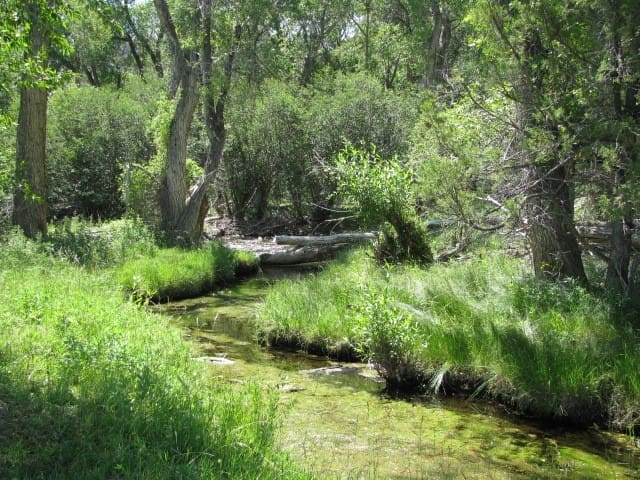 Conservancy protects 86 acres on the South Arkansas River
Central Colorado Conservancy furthered its 10-year plan to protect an additional 20,000 acres in the region by working with Poncha Springs landowner Lillian Bender to place 86 acres under conservation easement this spring.
Conservation easements limit future development and keep the land forever available for traditional uses such as ranching, wildlife habitat and scenic views.
Bender's conservation easement adds to the Conservancy's existing protected working agricultural lands and properties along the South Arkansas River.
A native of Poncha Springs, Bender honored the memory of her parents, Lawrence and Christine Bender, by donating the conservation easement to the Conservancy. The property encompasses one-quarter mile of the river and is home to songbirds, turkeys, deer, trout, an occasional bear, and a herd of cattle.
Bender is also working with the Conservancy and its partners on river restoration along the South Arkansas. Her property contains mature cottonwood trees that shade the river and provide the backbone of a healthy aquatic system.
Bender's conservation easement also protects the piñon/juniper hillside above the river valley, part of the viewshed for the Collegiate Peaks Scenic and Historic Byway and the popular Rainbow Trail. The land will continue to provide food, shelter and water for fish and wildlife, plus the beautiful views enjoyed by the local community and visitors.
"Now I know this land will remain protected and will never be filled up with buildings," Bender said. "It will be here for the birds and the animals forever. I can sit and listen to the brook bubbling and the birds singing and enjoy the peace."
The conservation easement was made possible with financial assistance for the associated costs through a transaction grant from Great Outdoors Colorado (GOCO) and the Chaffee County Conservation Trust Fund.
The Conservancy is committed to conserving the region's land, water and wildlife by partnering with landowners, agricultural producers and the community. As a nationally accredited land trust, the organization is uniquely positioned to work with private landowners to attain its goals and steward protected lands forever.
The Conservancy holds 34 properties under conservation easement and has helped protect over 10,000 acres in the region since its inception in 2001. Its land and water restoration projects take place in its service area of Chaffee, Lake, Fremont, Park, Saguache, and Gunnison counties.
For more information visit www.centralcoloradoconservancy.org.