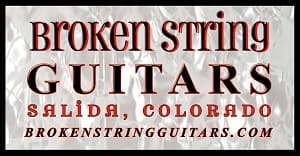 Phone: 719-207-0811 | 246 1/2 East First Street Salida, CO 81201
Email: info@brokenstringguitars.com
Website: www.brokenstringguitars.com

Broken String Guitars carries only used and vintage stringed instruments, amps and effects. Broken String is focused on quality and original vintage instruments and amps. Feel free to contact us with questions or if you have an instrument you would like to sell. We think it's important to understand our community of customers wants and needs.