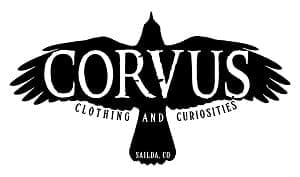 Phone: 719-207-4545 | 132 F Street Salida, CO
Email: corvusclothing@yahoo.com
Website: www.corvusclothing.net

We are a pop culture emporium. We have loads of Rock N Roll T-Shirts, TV and Movie Collectables and quirky toys, as well as fun ladies clothes and shoes. With a background in theater and film, we want to bring something different and nostalgic to Salida.