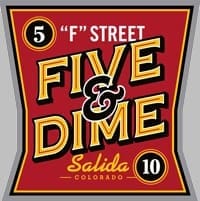 Phone: (719) 539-3538 | 147 F Street Salida, CO
Website: www.fstreetfiveanddime.com/

Open since April 2014, seven days a week 9 am. to 9 pm. T-shirts, Souvenirs,Soda and Snacks. Come see the restoration of the World War Two Memorial Wall for Chaffee County on the corner of 2nd and F street at the F Street Five and Dime.