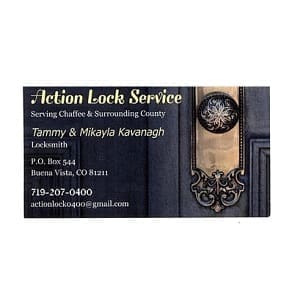 Phone: 719-207-0400 |
Email: actionlock0400@gmail.com
Tammy and Mikayla Kavanagh purchased Action LockService in 2016. Tammy started working in the lock business when her father bought Ed's Lock Shop in Buena Vista in 2010. They became "Uncle Doug's Lock Shop". Her father Doug Dreier, is good friends with Verl Curtis (former owner of Action Lock Service). When they learned of Verl's plans to retire, Tammy and her daughter Mikayla decided to purchase Action LockService and continue to grow in their trade. They can re-key homes and businesses & repair or replace locks. They can unlock your house or car. They can make most any key.