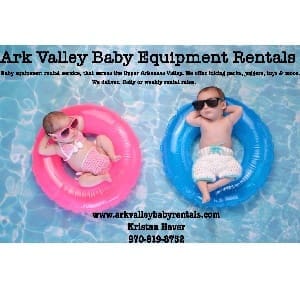 Phone: 970-819-8752 | 7705 CR 154 Salida, CO
Email: khaver@arkvalleybabyrentals.com
Website: www.arkvalleybabyrentals.com

We are a baby equipment rental service that serves the Upper Arkansas Valley. We deliver from Howard to Buena Vista. We offer products such as strollers, hiking packs, joggers, toys, etc. All in a variety of brands at a daily and weekly (5 day) rental rate. We will deliver what you need right to your vacation rental, so that you can enjoy your time while traveling. If you don't see something you may need, let us know and we just may be able to supply it for you. Our company strives to provide your family with clean, quality equipment to make your family's time away more enjoyable.