---
Arkansas River Clean up Day / Colorado Public Lands Day – May 20th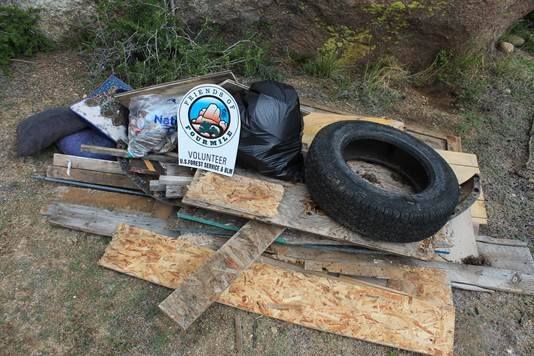 Please save the date on May 20th to celebrate the first ever Colorado Public Lands Day.  GARNA, SPOT, and the Conservancy will once again be teaming up with Arkansas Headwaters Recreation Area for their annual Clean Up Green Up event.
Volunteer sign-up will take place Saturday, May 20 at the Arkansas Headwaters Recreation Area building at 307 West Sackett Ave in Salida from 8:30 a.m. until 9:30 a.m.  Volunteers will receive trash bags and a collectible CUGU button.  Starting at noon there will be a Volunteer Picnic at Riverside Park with food and fun for all!
Colorado is the first state in the nation to establish its own Public Lands Day, let's help make it a great one!
In 1992 Colorado Governor Roy Romer declared May 9, 1992 as "Arkansas River Cleanup Day". This was quite an honor, and we all been staying true to the intent of this Declaration for the past 25 years. On Saturday, May 20, it's time again to clean up the Arkansas River and surrounding areas before the summer river season begins. Arkansas Headwaters Recreation Area (AHRA) and GARNA are teaming up for the 26th annual Arkansas River Clean Up Green Up.
May 20 is also the 1st annual Colorado Public Lands Day. Stay tuned for more info on this special day!
Pre-register:
Groups and/or individuals can sign up prior to the date by calling AHRA at 719-539-7289. If you have a favorite place that needs cleaning, please let AHRA know. If you need a suggestion of a locale that needs some TLC, they can provide that info. Stay tuned for more information.
Be a part of one of the valley's longest running community events!