---
Ark-Valley Humane Society Presents D.O.G. Campaign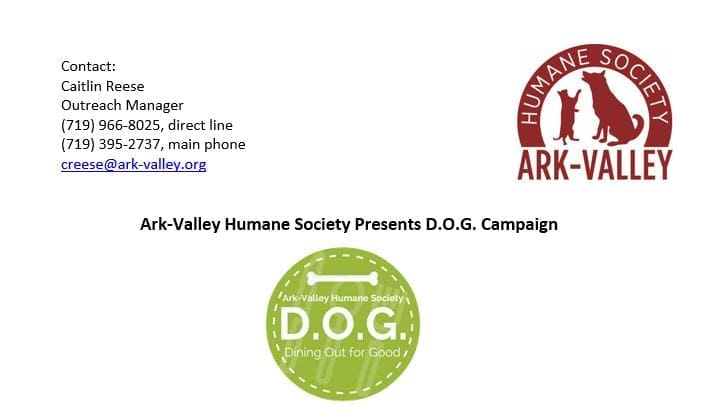 What: Ark-Valley Humane Society has a new and exciting opportunity to join forces with our local restaurants in town. D.O.G. stands for Dining Out for Good. Our goal is to have one restaurant each month host D.O.G. for homeless pets at Ark-Valley Humane Society. We promote them, they give back to us-it's a win-win!
Why: Ark-Valley Humane Society is the only animal shelter in Chaffee County and relies very heavily on donations. We're always seeking new ways to create partnerships among local businesses. With a large social media following of over 2,000 followers, a website that receives over 4,000 views a month, and a weekly radio spot on Heart of the Rockies Radio, we feel this is something that will not only benefit the animals at Ark-Valley Humane Society, but will greatly benefit the restaurants as well.
When: Our goal is to partner with a local restaurant each month whether that be through donating a percentage of profits to AVHS or any other unique ideas we come up with together. During that month, marketing and promoting of the restaurant will be occurring through AVHS' various marketing platforms.
Contact: Caitlin Reese, AVHS Outreach Manager at 719.966.8025 or email at creese@ark-valley.org.
About Ark-Valley Humane Society
Founded in 1995, Ark-Valley Humane Society advocates for the welfare of all animals through compassion and care. With a Live Release Rate of 98%, Ark-Valley Humane Society is dedicated to providing each animal with the care they deserve and the hope for a second chance. Over 250 companion animals were spayed or neutered in 2016 through our Chaffee County Community Assistance Spay and Neuter programs. Our vision for the future is to enhance the lives of all companion animals through humane education and partnerships, to create a safer and happier world for all companion animals, and to enhance the human-animal bond through education and responsible pet ownership.