---
Salida Circus – October
Hard to believe the holidays are right around the corner…but Salida Circus is ready to celebrate! Our world class aerialists "Aerial Aura" are ready to WOW your audiences, both indoors and out…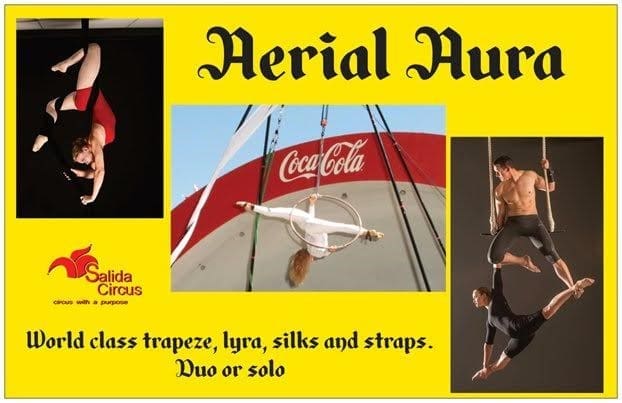 Our holiday stilt characters are ready to meet and greet, be at your tree lighting ceremonies, corporate events, parades and parties;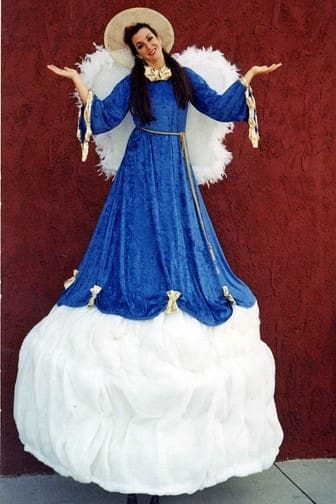 Our interactive children's shows "Spooky Circus in 60 Minutes" and "Happy Noon Year Show" are ideal for holiday celebrations at community events, schools and libraries (see descriptions below). Take a look through our website, find us on Facebook and give us a call to talk circus!
May all your days be Salida Circus Days!
In circus spirit,
Jennifer Dempsey, development officer
Salida Circus

Halloween is right around the corner and acrobatic witch sisters Broom Helga and Witch Hazel still haven't gotten their brew together! They've been having too much fun casting spooky spells on their friends! But the cuckoo clocks a-tickin,' and Helga and Hazel need to find the birds beaks, pigs toenails, eagles eyeballs, and hyenas hairballs to make the brew…can they do it in time for Halloween?? Spooky Circus in 60 Minutes is an interactive show featuring acrobatics, hand balancing, knife juggling, silly songs and lots of audience participation! Ideal for community events, schools, libraries

2018 is approaching and Salida Circus needs your help with the countdown! Whether it's spinning the circus plates, testing the stilt toys or helping Captain Noon Year's interactive illusion acts, Salida Circus brings in a Noon Year you'll never forget! Salida Circus Happy Noon Year Show is 60 minutes of interactive circus fun ideal for 4-104 year olds. Features acrobats, juggling jesters, magician and YOU! Ideal for community events, schools, libraries.